Sexual violence in Algeria,Tunisia and Morocco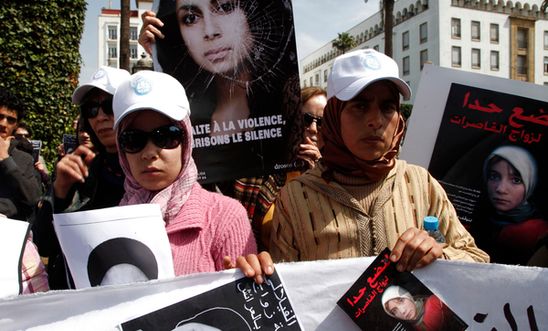 Activists protest against the suicide of Amina al-Filali in Morocco © REUTERS/Youssef Boudlal
In Algeria and Tunisia, the law allows rapists to escape prosecution by marrying their teenage victims. Morocco recently did away with a similar law, although other laws in the country are still failing survivors of sexual violence.
Thank you to the nearly 31,000 of you who signed our petition. We will be handing the petition in to the Algerian, Tunisian and Moroccan authorities soon and will be keeping up the pressure to demand an end to discriminatory rape laws and for them to protect survivors of sexual violence.
Punishing not protecting rape survivors
In March 2012 16-year-old Moroccan Amina Filali swallowed rat poison and killed herself after being forced to marry the man she said had raped her.
Amina's tragic death was widely reported in the media. It caused public outcry in Morocco at a law that punished rather than protected rape survivors. In January 2014 the Moroccan parliament unanimously voted to amend Article 475 of the Penal Code, which allowed abusers and rapists to escape prosecution by marrying their victim if she was under 18.
Although the amendment came too late for Amina the change is a significant step forward for the rights of women and girls in Morocco. But there is still work to be done to protect the survivors of sexual violence in Morocco. The severity of punishment for rape still depends on whether the victim was a virgin or not.
Algeria and Tunisia need to follow Morocco's lead.
In Algeria and Tunisia the law still allows rapists to avoid prosecution by marrying their teenage victims; Article 326 of the Algerian Penal Code and Article 227 of the Tunisian Penal Code lets perpetrators of such sexual violence walk free.
The very principles underlying these laws are deeply flawed putting honour and shame before the needs of sexual violence survivors.
Failing to protect survivors
In Algeria, Tunisia and Morocco the law fails to protect survivors of sexual violence and can further stigmatise. Legal provisions relating to rape emphasize 'morality' and 'decency' rather than the personal and the bodily integrity of the victim.
Definitions of rape fall short of international standards, limited to a man having sexual relations with a women against her will. Marital rape is not recognised as a specific offense. Consensual sexual relations outside marriage and same sex relations are criminalised. These provisions may stop survivors of sexual violence from coming forward for fear that they might be prosecuted if their allegation of rape is not believed.
All three countries urgently need to make comprehensive legal reforms, in consultation with women's rights groups, to address sexual violence against women and girls.
What we are doing
Our staff and activists in Morocco, Tunisia and Algeria are continuing to petition, demonstrate and collect testimony as Amnesty activists globally are putting pressure the embassies in their own countries and their own governments.
What we want to see
The Algerian, Tunisian and Moroccan authorities must end discriminatory rape laws and protect survivors of sexual violence
Algeria and Tunisia must repeal provisions that allow rapists to avoid prosecution by marrying their teenage victims
Morocco must not base the punishment for rape on whether the victim is a virgin or not
The Algerian, Tunisian and Moroccan authorities must do more to combat rape, recognise marital rape as a crime, recognise that men can be the victim of rape and that rape can happen without physical violence
Decriminalise sexual relations between unmarried consenting adults and same-sex sexual relations
Provide services and access to justice for victims of rape and sexual violence by specially trained professionals which are safe, legal, sensitive and confidential