Using virtual reality headsets and 360 Syria at summer festivals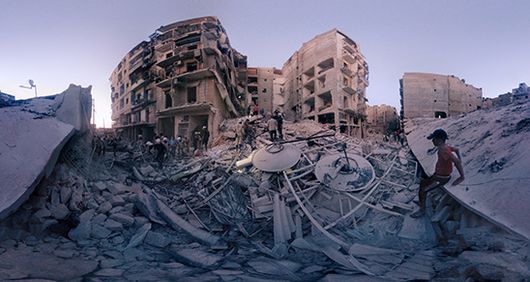 360° image of Tareq al-Bab, Syria, following a barrel bomb attack © Lamba Media Production
Summer festivals are upon us! We know that many of you are planning to have a presence at your local, regional and national festivals.
Last year local groups took our messages to more than 65 festivals across the country. This year we are suggesting that the focus of festival campaigning be our new 360 Syria project, which gives the public a far more memorable and deeper engagement with the ongoing situation in Syria.
Syrian activists, trained by Amnesty, have supplied 360° spherical images taken using smartphones. We then share the images with the public using virtual reality (VR) headsets.
We have a set of virtual reality headsets and refurbished smartphones available on loan for your group to use at festivals and on stalls this summer. You can order them by contacting the Community Organising Team on 020 7033 1675 or activism@amnesty.org.uk.
Download the resources below to find out more.