360° Syria: How media activists are shining a light on war crimes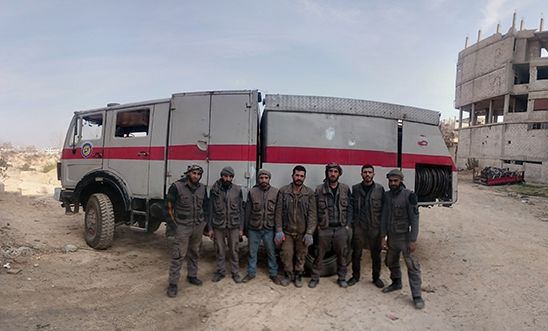 These are no ordinary men you see before you. These are seven of the bravest, most heroic people in all of Syria. And as Syria is just about the most dangerous place in the world, it's safe to say that their courage is truly remarkable.
When bombs rain down from the sky, the volunteers of the Syrian Civil Defence come to the rescue. Also known as the White helmets, these unarmed men and women risk their lives to save others, no matter what side of the conflict they're on. In a previous life, when public emergency services still existed, they were ordinary citizens – teachers, engineers, carpenters, students. Now their bravery provides hope in a place where there is little else.
From driving fire engines and providing medical care to searching for life in the rubble, they are first line of support for people hit by barrel bombs (the single biggest killer of civilians in Syria), sniper fire, or anything else that might be thrown at them by pro-Assad forces and other armed groups.
The spherical image above was taken at the Syrian Civil Defence headquarters in Aleppo as part of 360Syria.com – a new website we've launched to highlight the devastation wrought by this seemingly endless war and the resilience of people in the face of it all.
The platform showcases specially-created 360° photography and other content gathered by a group of Syrian media activists called Lamba Media Production.
In the aftermath of a bombing, citizen journalists also rush to the scene to document the devastation caused by barrel bombing and other attacks on besieged cities across Syria. The images form part of an enduring body of evidence of widespread human rights violations by all sides in this conflict.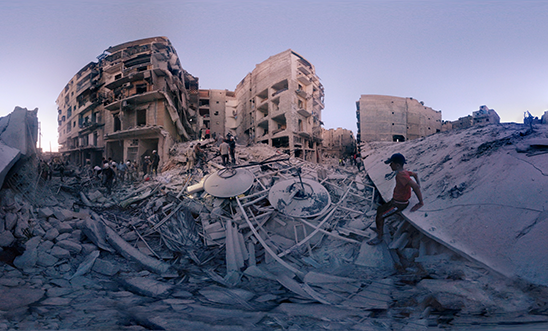 The aftermath of a barrel bomb in Aleppo as the White Helmets rush in to search for life. © Lamba Media Production
Photographs like this one of a bombing in the neighbourhood of Tariq al-Bab help to record possible war crimes and human rights abuses in Syria and bring us one small step closer to holding the perpetrators of these atrocities to account. 
We want these images to provide some hope in what is a seemingly hopeless situation. In the most dangerous country in the world, despite all the odds, there are people continuing to make ends meet, to survive, to thrive. If they haven't given up hope for a solution, then the international community must not either.
The power of technology
As part of the project, we're working to empower and mobilise peaceful Syrian activists to help them develop independent civil society and create a future where human rights are respected. We're providing equipment and training using the latest photographic equipment, allowing them to capture high-quality 360° images with the touch of a button, and ensuring that their work is seen by the rest of the world.
The images will live on 360Syria.com, with narration by Razan Ghazzawi – a prominent Syrian blogger and activist. The site is built using 'WebVR' - a pioneering new technology which brings virtual reality to any internet-connected device via your browser, with no need to download an app.
Our street fundraisers, school speakers, volunteers and local groups are using virtual reality viewers to give the public an immersive experience of the apocalyptic scenes.
As well as supporting peaceful Syrian activists, we're also campaigning for the delivery of aid wherever it is needed, calling for war crimes to be investigated, demanding freedom for detained Syrian activists, and urging Europe's leaders to welcome more Syrian refugees.
About Amnesty UK Blogs
Our blogs are written by Amnesty International staff, volunteers and other interested individuals, to encourage debate around human rights issues. They do not necessarily represent the views of Amnesty International.
View latest posts