Urgent Action: Uyghur academic faces execution in China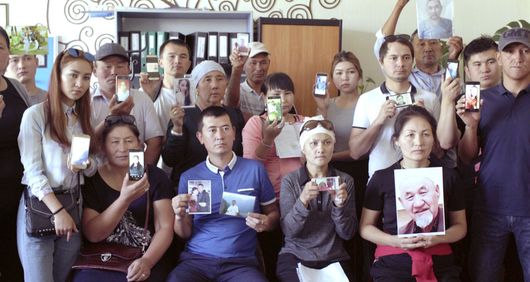 "Where are they?" Mass detentions in Xinjiang, China
Fears are mounting that the Chinese authorities will carry out the execution of Tashpolat Tiyip, a prominent Uyghur academic, and former president of Xinjiang University, who was convicted in a secret and grossly unfair trial.
Subjected to an enforced disappearance in 2017, he has been arbitrarily detained since then. No information has been made available about charges and proceedings against him. His current whereabouts remain unknown.
Who are the Uyghurs? 
Uyghurs are a mainly Muslim ethnic minority who are concentrated primarily in the Xinjiang Uyghur Autonomous Region (Xinjiang) in China. Since the 1980s, the Uyghurs have been the target of systematic and extensive human rights violations. This includes arbitrary detention and imprisonment, incommunicado detention, and restrictions on religious freedom, as well as cultural and social rights.
Local authorities maintain tight control over religious practice, including prohibiting all government employees and children under the age of 18 from worshiping at mosques. Chinese government policies limit the use of the Uyghur language, impose severe restrictions on freedom of religion and encourage a sustained influx of Han (the ethnic majority in China) migrants into the region.
An in-depth investigation published by Amnesty International in April 2017, China's Deadly Secrets, shows that despite claims by China that it is making progress towards transparency in the criminal justice system, Chinese authorities enforce an elaborate secrecy system to obscure the extent of executions.
This investigation found that hundreds of executions in public media reports are missing from a national online court database, "China Judgements Online". Such case should be uploaded according to Chinese regulations. This was also particularly relevant to death penalty cases relating to the Xinjiang region.
Amnesty International opposes the death penalty in all cases and under any circumstances, as a violation of the right to life, and as the ultimate cruel, inhuman and degrading punishment. The organisation has been campaigning for global abolition of the death penalty for over 40 years.
PLEASE TAKE ACTION until 23 December 2019
Please write using your own words or the template letter provided in the attached documents, in Chinese, English or your own langauge to the listed address as soon as possible: 
President of the People's Republic of China, Xi Jinping
Zhongnanhai
Xichangan'jie
Xichengqu, Beijing Shi 100017
People's Republic of China
Fax: +86 10 6238 1025
Email: english@mail.gov.cn
Downloads