Opposition members at high risk of attack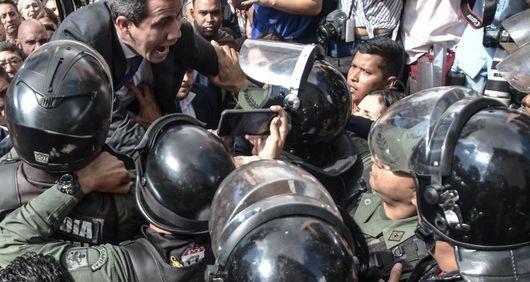 Renewed attacks on representatives and staff linked to opposition parties in Venezuela's National Assembly began on 20 December 2019. Following events on 5 January 2020, there are serious concerns about the risk of arbitrary detention and other grave human rights violations for all other representatives. This is not the first time that President Nicolas Maduro and his government have intimidated, harassed, physically abused, arbitrarily detained and forcibly disappeared National Assembly representatives and staff in an attempt to silence political dissent.
Policy of repression within the government
In recent years, dozens of opposition members have been forced to flee the country and request asylum in the face of threats they have received from the Maduro government.
On 5 January 2020, the Venezuelan National Assembly elected its new board for the new year. This election was held under a policy of repression, through which Maduro's authorities harassed, intimidated, and arbitrary detained National Assembly staff and representatives, in an attempt to hinder civil and political rights.
Amnesty International recently learned of, what may amount to, the forced disappearance of Representative Gilber Caro and Víctor Ugas – both of whom were arrested by alleged state agents on 20 December 2019. While both were presented before a judge, the authorities have denied their relatives any information about their whereabouts.
Smear campaigns and threats against members of the opposition, including against representative Delsa Solórzano, are examples of the persistent harassment and intimidation of opposition representatives and staff of the National Assembly.
In last year's report, Hunger for Justice: Crimes against Humanity in Venezuela, Amnesty International concluded that the extrajudicial executions (the killing of individuals without any judicial proceedings or due process), arbitrary detentions, and deaths and injuries caused by the excessive use of force by Nicolás Maduro's government, as part of a widespread policy of repression, may constitute crimes against humanity.
Since 2014 Venezuelans have fled in unprecedented numbers in search of safety and a dignified future abroad. By December 2019, an estimated 4.8 million had fled the country, and it is believed that this figure will reach 5.5 million in 2020.
Update February 2020
In mid-January, National Assembly representative, Gilber Caro, was finally allowed visits from his family and lawyers. Journalist Victor Ugas, and other National Assembly staff, were released from custody.
Victor and Gilber were arrested in December and forcibly disappeared for almost a month. Our urgent action was timely and well received, together with a press release condemning the attacks against the National Assembly.
We encourage you to continue sending your appeals, as the risk for other representatives continues.
Taking action
Since Twitter is a massive social media platform in Venezuela, and other communication means are practically non-existent, particularly mail, we advise using Twitter.
Tweet the President of Venezuela directly: @NicolasMaduro
*As sending physical mail to Venezuela is unreliable, we recommend contacting your local embassy or high commission.
Image copyright of Laura Rangel, Amnistía Internacional Venezuela
Downloads