First update: Rights defender facing trumped-up charges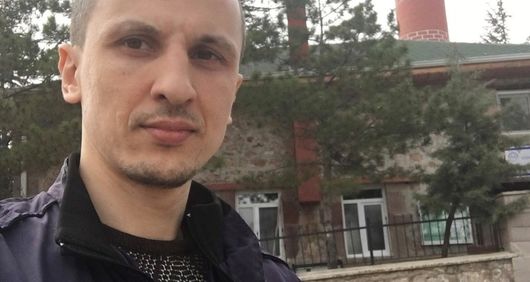 The trial of Server Mustafayev has started, following his transfer to a detention centre in Rostov-on-Don, southwest Russia. Server Mustafayev is a human rights defender from Russian-occupied Crimea who has been in detention since May 2018, under false terrorism-related charges. He is a prisoner of conscience, targeted solely for his human rights activism, and must be released immediately and unconditionally.
Background:
People who have opposed the Crimean Peninsula's occupation and illegal annexation by Russia, and the human rights violations committed there since 2014 have faced persecution; including harassment, prosecution under trumped-up charges and enforced disappearances. International human rights monitors do not have access to Crimea and independent media are either banned or forced to shut down.
Server Mustafayev is the founder and coordinator of the grassroots movement, Crimean Solidarity, in Russian-occupied Crimea. The movement was created in 2016 in response to the political and religious persecution of Crimean Tatars and other groups by the Russian authorities. The movement brings together activists, lawyers, and relatives of those who have been arrested and prosecuted; ensuring they can access legal aid, financial, medical and other vital support. In the absence of free media, and in light of persecution of all dissenting voices in Crimea since its illegal annexation by Russia in 2014, the movement also seeks to raise awareness about the ongoing human rights violations taking place in Crimea.
Server Mustafayev was transferred from his home in Crimea to Russia to stand trial in a military court. By transferring prisoners from an occupied territory to Russia, trying them under Russian law and making them stand trial in a military court, the Russian authorities are violating international humanitarian and human rights law.
PLEASE TAKE ACTION until 10 January 2020
Please write using your own words or the template letter provided in the attached documents, in Russian, English, or your own language, to the listed address as soon as possible: 
Prosecutor General of the Russian Federation
Yuriy Yakovlevich Chaika
Prosecutor General's Office
Ul. B. Dmitrovka, d. 15a
125993 Moscow GSP-3
Russian Federation
Fax: +7495 987 58 41/ +7495 692 17 25
Twitter: @Genproc
Downloads