First Update: Housing rights researcher in detention after enforced disappearance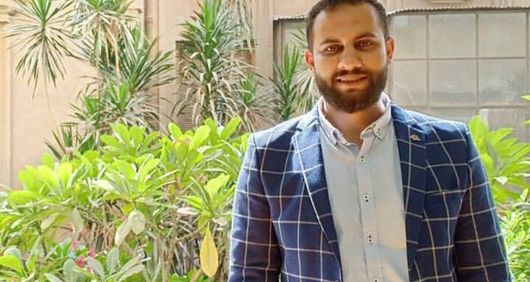 On 26 November 2019, Ibrahim Ezz El-Din, a housing rights researcher with the Egyptian Commission for Rights and Freedoms (ECRF), appeared at the Supreme State Security Prosecution in Cairo after 167 days of enforced disappearance, since his arrest at his home in Moqattam, Cairo, on 11 June 2019.
Amnesty International has extensively documented Egyptian security forces' use of enforced disappearances as a tool against political activists and protesters, including students and children in Egypt.
Background:
Ibrahim Ezz El-Din is a researcher at the Egyptian Commission for Rights and Freedoms (ECRF), where he focuses on the right to housing. He has been investigating access to safe and affordable housing, documenting forced evictions and Egypt's urban planning policies.
On the night of 11 June 2019, plainclothes Egyptian security forces arrested Ibrahim. He was taken from the street near his home in Moqattam, Cairo, and has been forcibly disappeared since then. Following his arrest, his family and lawyers have enquired about him at the Moqattam police station, but the authorities denied that he was in their custody. The family and lawyers also sent a telegram (a postal message) to the Public Prosecutor and filed a complaint regarding his disappearance.
He is the fifth person affiliated with ECRF to have been arrested since 2016. Ibrahim's arrest comes amid a human rights crisis and crackdown on Egypt's civil society that has led to the arrest of hundreds over their legitimate work or peaceful expression or assembly. Many of those arrested have been apprehended and subjected to enforced disappearances, before being charged with unfounded "terrorism" charges relating to their legitimate work, and then being held in pre-trial detention for months or years, without ever being referred to trial.
PLEASE TAKE ACTION until 13 January 2020
Please write using your own words or the template letter provided in the attached documents, in Arabic, English, or your own language, to the listed address as soon as possible: 
Public Prosecutor Hamada al-Sawi
Office of the Public Prosecutor
Madinat al-Rehab
Cairo, Arab Republic of Egypt
Fax: +202 2577 4716
E-mail: m.office@ppo.gov.eg
Downloads