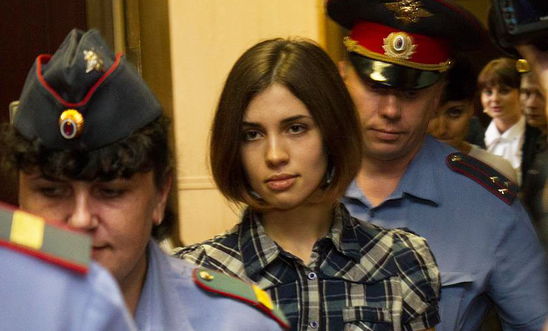 Nadezhda Tolokonnikova in Moscow Tagansky District Court, Russian Federation, 20 June 2012 © Denis Bochkarev
Nadezhda Tolokonnikova is a member of the Russian punk band Pussy Riot.
She is currently serving a two year prison sentence for 'hooliganism on the grounds of religious hatred' after she and her band mates played a gig in Moscow's main Orthodox cathedral, miming along to lyrics that criticised the relationship of President Vladimir Putin with Russia's Orthodox Church.
We have campaigned on behalf of Pussy Riot many times since they were arrested, but when we learnt that on 22 October Nadya has been escorted into a car by prison authorities and disappeared we were very concerned.
What you did
Nearly four weeks later, after more than 10,000 of you signed our petition, the Russian prison authorities revealed that Nadya is in the Krasnoyarsk region.
Discover more cases to take action on
Nadya's husband told us he spoke to his wife on the phone on 13 November for the first time in 26 days. He says that Nadya is in the Krasnoyarsk tuberculosis hospital undergoing tests in connection with complications following her hunger strike.
Nadya told her husband that she was in fact in the Krasnoyarsk region on 11 and 12 of November - which contradicts statements by the authorities that she was not in the region at this time.
Intimidation tactics?
Technically, prison authorities in Russia can hold a prisoner in an anonymous location as long as the prisoner is in transit. Once Nadya has been moved to a new penal colony her family must be notified within ten days' of her arriving at the new colony.
Nadya's lawyer fears that authorities are taking advantage of this legislation to intimidate Nadya and her family by deliberately making her life difficult.
Nadya's family say that she has been subjected to a campaign of intimidation by prison authorities during the past year. We're concerned that while Nadya remains in an unsecured, undisclosed location, prison authorities could be using the opportunity to intimidate and punish her out of reach from her family and legal support.
Punished for speaking out: Solitary confinement and death threats
'Nadezhda Tolokonnikova has publicly complained of threats she received from prison officials. We are concerned that she now may be being punished for this and for speaking out about deplorable prison conditions.'
Denis Krivosheev, Amnesty International
Nadya has protested about the conditions at the penal colony in Mordovia, where she was imprisoned until her disappearance on 22 October.
In September Nadya began a hunger strike in protest against what she called slave labour conditions and degrading treatment. As a result, she was send to solitary confinement - according to prison authorities 'for her own safety'. She says she was sent a death threat by the penal colony's deputy director.
'You will definitely not suffer any more. Nobody suffers in the afterlife.'
Nadya's alleged death threat from the deputy director of her former penal colony
Illegal labour conditions
The working conditions at the Mordovian penal colony where Nadya was being held are illegal under Russia's labour code. This was verified by a presidential working group on human rights that visited the colony following Nadya's complaint.
Prisoners work 12-16 hours every day, seven days a week
They have no contracts or legal protection
Paid much less than Russia's minimum wage
Not allowed to complain or disagree with working conditions
Complainants are punished informally, outside of official systems
Pussy Riot
In August 2012, Moscow's City Court jailed three members of the punk band Pussy Riot for two years.
Maria Alekhina, Ekaterina Samutsevich and Nadezhda Tolokonnikova were convicted of 'hooliganism on the grounds of religious hatred' after playing a gig in Moscow's main Orthodox cathedral, and miming along to lyrics that criticised the relationship of President Vladimir Putin with Russia's Orthodox Church.
We believe that the three women were punished by authorities on politically motivated grounds. Their right to free speech was curtailed, and as such they are prisoners of conscience.