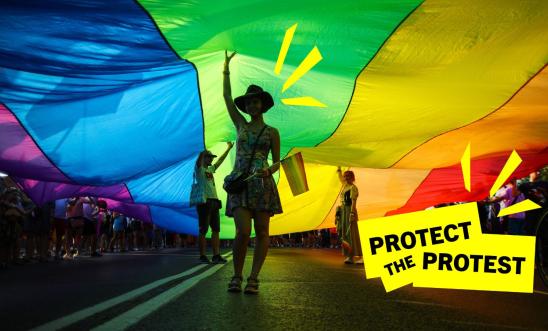 In the UK, the right to protest is under threat. But by standing together, we have the power to fight back. Together, we can create a more just and equal world.
Our new briefing on Protect the Protest highlights how protest is being threatened by governments across the world. It makes clear that groups facing discrimination are often at the heart of protests and bear the brunt of attacks on their rights.
Why is protest important?
Peaceful protest is one of the most effective ways for the majority of us to have their voices heard. Protest is the reflection of public feeling underrepresented in politics, especially groups who are overlooked or ignored. To be heard, citizens band together in solidarity and demand their rights are respected.
Protest is a key tactic for humanity to win.
Positive change for human rights would not happen without the right to protest. Many of the great movements of our world's history used protest and benefited humanity as a whole. Think about the suffragettes, civil rights movement, Indian independence, anti-apartheid in South Africa and Pride.
Movements for change stood firm and courageous in the face of repression like police brutality, imprisonment or worse. Countless rights and freedoms enjoyed today, like women being able to vote and workers able to enjoy weekends, have all been won by protesting against injustice.
Read 10 famous protests that shook the UK
What is the state of protest rights in the UK?
In the UK, the right to protest is under threat. Westminster has repackaged the worst parts of the Police, Crime, Sentencing and Courts Act into a new Public Order Bill. Amnesty UK has urged MPs across divides to oppose this new Anti-Protest Bill in its entirety.
Commenting on the Public Order Bill, Sacha Deshmukh, Amnesty UK's Chief Executive Director said:
"It follows a pattern of a government voicing support for protest around the world but cracking down on the right to speak up here at home."
These new attempts to reduce protest rights are in breach of international human rights law. On September 2020, the UN Human Rights Council General Comment on the right to peaceful assembly stated:
"State parties should not rely on a vague definition of 'public order' to justify overbroad restrictions on the right of peaceful assembly. Peaceful assemblies can in some cases be inherently or deliberately disruptive and require a significant degree of toleration."
For example, the government proposed Serious Disruption Prevention Orders go even further than Russian Law on Assemblies. In Russia, people convicted of protest-related offences are not allowed to organise protests. If the Public Order Bill passes, people convicted for protesting would not even be allowed to participate.
What's more, the Police, Crime, Sentencing and Courts Act already criminalises Roma, Travellers and nomadic communities.
Find out why we opposed the Policing Act
What can we do about it?
Together, we can keep this fundamental freedom safe.
Sign up here to be the first to hear all about our new campaign, Protect the Protest, and ways you can get involved - including a free online course coming soon.
 
Download our briefing below.
Downloads