Resources for Early Years and primary schools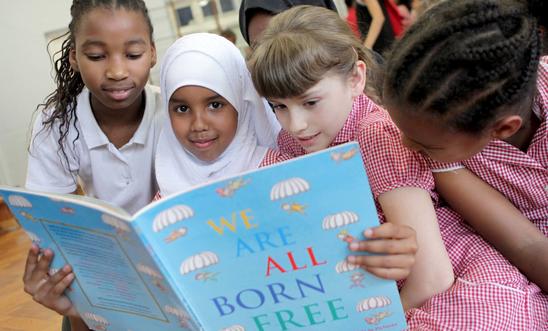 Amnesty and Chickenshed workshop based on our book We Are All Born Free
We believe that it is never too young to teach about human rights.  Our acclaimed curriculum linked resources combine our expertise in human rights with practicing teachers. 
All of our resources engaging and accessible and will help you bring human rights issues to life in the classroom. A good place to start is with our short two-page introduction to human rights education
Resources for Early Years and primary schools
Search through our resources that introduce five to eleven-year-olds to human rights issues and ways to take action:
Our World Our Rights
With opportunities for teaching human rights to children from the age of three up Our World Our Rights provides 30 activities to bring human rights into your classroom. 
'Every single human being matters, but sadly we live in a world where it does appear as if some human beings matter more than others.  I believe that we have to do all we can to make sure that the world doesn't stay like this.  This book is one way of doing this'
Michael Rosen
Order your free copy of Our World Our Rights 
Fiction and human rights
Fiction has real power to further human rights education. We produce a range of free, downloadable notes for teachers at primary schools to explore the values at the heart of human rights.
Find out more about using fiction to teach human rights
Invite an Amnesty speaker 
Our trained Amnesty speakers deliver informative, creative, fun 
assemblies or workshops that will bring human rights to life.
Join the Junior Urgent Action Network
Our Junior Urgent Action network supports you in engaging our youngest activists. Receive regular campaign case sheets and creative action ideas produced for 7-11 year old activists toegther with teachers or parents.
Fundraise
From resources, ideas and advice we can provide everything you need to hold an event to raise funds for our human rights work around the world.
Fundraise for Amnesty in your primary school
Get in touch
If you have any queries we are always here to help and offer advice.
Email sct@amnesty.org.uk
Phone 020 7033 1777