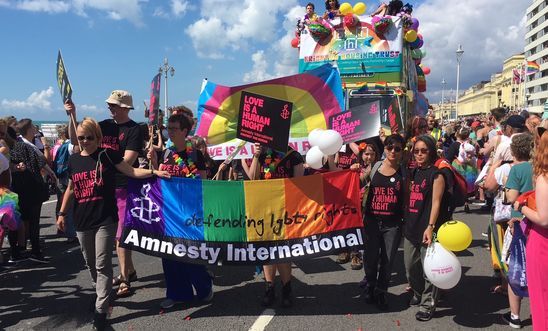 Amnesty at Pride in Brighton 2017
Pride season 2018 runs from May till October. If you're part of an Amnesty group and wish to take part in Pride, we advise you to start planning now, to ensure an action-packed and successful Pride season.
Register
Check the date of your local pride and visit the organiser's website to determine whether you need to register your group's attendance at the parade or to book a stall. Some prides may not have announced their dates yet, however you can begin to consider what kind of presence your group will be able to have.
Our current LGBTI campaigns
It is worth updating yourself on our current campaigns and thinking about how you can incorporate them into your activities during pride. Our ongoing campaigns presently include Marielle Franco, Zac Kostopoulos and the human rights of people who are trans.
How we can help
All the information about planning your Pride presence can be found in our Pride guidelines. If your group is in need of additional materials (such as the selfie frames); requires assistance in funding a presence at pride; or would appreciate extra people to help out on the day then please get in touch with the LGBTI Network (lgbtinetwork@amnesty.org.uk). Also contact us if you need any other support or guidance. Once your plans are confirmed, do let us know and we can promote your presence there.
AGM
There will also be an opportunity to discuss your plans for Pride with the LGBTI Network at the Amnesty International UK National Conference and AGM in April. We will keep you informed on the progress of our campaigns, potential actions and Pride resources as we get closer to the summer.
Join the Amnesty LGBTI Network
Please do  join the Amnesty UK LGBTI Network for our monthly ezines, and follow the LGBTI Network across our social media channels on Instagram, Twitter and Facebook for all our latest campaigning news, events and actions.