Justice for Marielle Franco, assassinated for defending human rights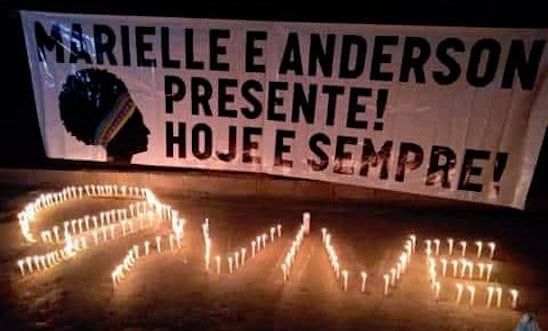 Marielle Franco © Private
Written by Milton Sattler, member of the Amnesty UK LGBTI Network committee.
On Wednesday 14 March 2018, Brazil was shocked by the brutal assassination, in Rio de Janeiro, of councilwoman 38-year-old Marielle Franco.
Marielle was coming back from the Casa das Pretas (House of Black Women), where she had participated in a debate, when her car was followed by gunmen who opened fire. They killed her and the driver, Anderson Gomes, and fled quickly without committing robbery.
The car was shot nine times. According to the Civil Police, all the shots were aimed at the backseat, where Marielle sat. The main hypothesis analysed by the Homicide Police of Rio is that it was a premeditated execution, given the action of the criminals.
About Marielle Franco
Marielle was elected a councillor for Rio de Janeiro City Council in 2016. She was an Afro-Brazilian human rights defender, she advocated for housing rights for some of the city's poorest and most marginalised residents, defended women's and LGBTI+ rights and worked against systemic racism. She was openly serving as a bisexual politician who fought for women, black, low-paid workers, social inequality and human rights across Rio de Janeiro, where she grew up in one of the many favelas and often spoke openly against the discrimination of minority groups, as well as reporting on the use on the excessive force by the police.
'Her election represents everything the status quo feared to see in the spaces of power! Her execution is yet another proof that Brazilian democracy is fragile and under attack, how much it is necessary for all and every worker in the world to denounce this political execution and demand justice!'
Winnie Freitas, a member of Marielle's party
Two weeks prior to her execution, Marielle was appointed as a rapporteur on a special commission established by Rio City Council to monitor the military's role in taking over police functions in Rio de Janeiro City. Three days before her execution, she condemned the execution of two youths by the military police in Acari community in a post on Twitter:
'We must speak loudly so that everybody knows what is happening in Acari right now. The 41st Military Police Battalion of Rio de Janeiro is terrorizing and violating Acari residents. This week two youths were killed and tossed into a ditch. Today, the police walked the streets threatening residents. This has always happened and with the military intervention things have gotten worse.'
Just hours before she was killed Marielle had asked during a public meeting, 'How many more must die before this war ends?' She was shot dead less than 24 hours later.
Murder in Rio
According to the Atlas of Violence, between 2005 and 2015, for every 100 people murdered in Brazil, 71 are black. Black people have a 23.5% higher chance of being murdered than Brazilians of other races. Data on deaths resulting from police intervention, in the category of "legal interventions and war operations," Rio de Janeiro is the state that records the highest number of homicides of this type. There is a consensus that the Federal Military Intervention is not meant to end violence, but it is more a measure of the well-known "War on Drugs" that kills and imprisons thousands of black youth every year and does not reduce illicit drug use rates, so it is known as "War on the Poor".
Thousands and thousands had taken the streets of Brazil to protest against Marielle and her driver assassination and the growing violence in Brazil. Marielle's assassination has been condemned worldwide by leading human rights defenders.
Over a month after their murder, investigators already have information on the source of the ammunition used, have images of security cameras set up in the crime area and seized a car suspected of being used by the killers. There is not an indication, however, of who sent or executed Marielle's death.
Justice for Marielle!
We condemn the shocking assassination of Brazilian human rights defenders, Marielle and the driver Anderson, and call on the Brazilian authorities to investigate their assassination and bring the perpetrators to justice, including anyone who might have been involved in the planning of the murder.
On Thursday 26 April, join us in a vigil in front of the Brazilian Embassy in London. Light a candle for Marielle and Anderson!
Address: 14-16 Cockspur St, St. James's, London SW1Y 5BL
Time: 5:30pm
About Amnesty UK Blogs
Our blogs are written by Amnesty International staff, volunteers and other interested individuals, to encourage debate around human rights issues. They do not necessarily represent the views of Amnesty International.
View latest posts