Yvette Cooper to call for action on refugee crisis in Belfast speech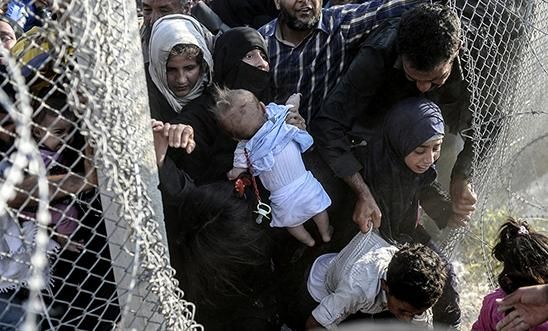 Yvette Cooper warns that international support for refugees is being eroded © BULENT KILIC/AFP/Getty Images
'Northern Ireland has a proud record on refugees. But the world can - and must - do more' - Yvette Cooper MP
Former government minister Yvette Cooper MP will call for a more ambitious international response to the refugee crisis when she delivers a major speech in Belfast this evening.
Giving the Amnesty International Annual Lecture, entitled "Fixing the Refugee Crisis", Ms Cooper, Chair of the Labour Party's Refugee Taskforce and former Shadow Foreign Secretary and Shadow Home Secretary, is expected to say:
"We face a global crisis we have not seen since the Second World War. The highest levels of displacement on record.

 

"An unprecedented 65 million people around the world have been forced from their homes.

 

"As we speak tonight, up to a million people are at risk of displacement in Mosul, fearful of the fighting ahead - on top of the already half a million who have fled the city since IS took control.

 

"At the same time, international support for refugees and human rights is being undermined.

 

"But if countries don't act together to address the crisis, it will get worse. If the crisis isn't managed more people will suffer, and many more countries will be affected by instability too.

 

"Northern Ireland has a proud history in responding with open hearts to previous refugee crises. Just as past generations of people from this island have fled famine and conflict to seek new lives in other countries, so too have you offered refuge to those in desperate need - at their time of need.

 

"Between 1938 and 1948 the Refugee Resettlement Farm, near Millisle in County Down, provided a home for Jewish children who escaped the Nazis on the Kindertransport. And today, the Northern Ireland Executive and your local councils have stepped up to be part of the Syrian resettlement scheme. Charities have told me that the support being provided in Northern Ireland is among the best in the United Kingdom.

 

"You should be proud of that. But this is an international crisis and the world can - and must - do more. No country can solve this alone, but every country, including our own, needs to play its part.

 

"Most immediately France and the United Kingdom need to work together to deal with the problems in Calais. No one should be living in the kind of squalor and danger that we have seen in the Jungle - least of all children and teenagers alone.

 

"The French authorities have said they plan to start clearing the camp next week, but there are still no proper plans for children and teenagers alone there who have no family anywhere to care for them. That includes over forty girls under 18, some as young as 14, identified by charities who are at terrible risk of trafficking and sexual exploitation. An urgent plan is needed from France and the United Kingdom to get those young women to safety before it is too late."
Ms Cooper will give the Amnesty International lecture to an audience of 500 in a sold-out Elmwood Hall on Thursday evening as part of the Ulster Bank Belfast International Arts Festival.
Patrick Corrigan, Amnesty International's Northern Ireland Programme Director, said:
"Yvette Cooper has been a strong voice for refugee rights, including most recently championing the resettlement of child refugees. 

 

"We are delighted that she has come to Belfast to make a call for the world to do more to help those fleeing violence, conflict and persecution – arguably the most important task of our times."
Following the lecture, to take place at 7:30pm this evening in the Elmwood Hall in Belfast, a question and answer session will be hosted by journalist William Crawley.  
Note: Yvette Cooper is giving the lecture in her capacity as Chair of the Labour Party's Refugee Taskforce, not in her capacity as newly-elected Chair of the House of Commons Home Affairs Select Committee.