Women activists stage 'Beep for Freedom' car stunt outside Saudi embassy in London to highlight 100 days of crackdown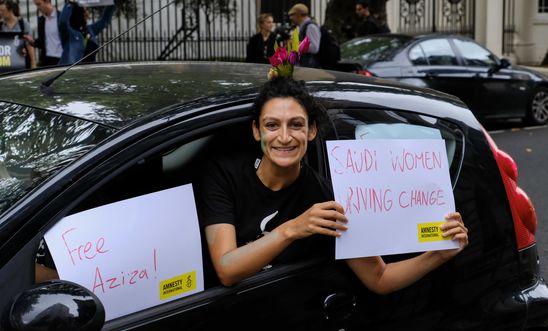 Campaigners outside the Saudi Arabian Embassy in London earlier today © Jon Cornejo / Amnesty International
'The Saudi Embassy has heard us loud and clear demanding the release of these brave women'
Amnesty International has staged a car-driving stunt outside the Saudi Arabian Embassy in central London this morning to highlight a crackdown on women's rights activists in the country which has seen several leading human rights defenders detained for 100 days without charge. 
The "Beep For Freedom" protest saw female activists driving cars outside the Saudi embassy, beeping their horns, leaning out of their windows with hand-written placards and bringing traffic in the area to a standstill. (Photographs are available here, credit: Jon Cornejo / Amnesty International).
Since May, a number of leading Saudi human rights defenders have been detained without charge. Loujain al-Hathloul, Iman al-Nafjan and Aziza al-Yousef were all imprisoned on 15 May and today marks 100 days since their detention.
Amnesty is calling on the UK Government to publicly condemn the arrests of these women and pressure the Saudi government to release them. 
Sara Rydkvist, Amnesty International UK's Campaigns Manager, said: 
"The Saudi Embassy has heard us loud and clear demanding the release of these brave women and the many other activists in the country who have dared to speak up for their rights.

"Saudi Arabia's so-called reforms are a sham - the UK Government must be bold in showing solidarity with brave women standing up for human rights by publicly condemning their arrest and calling for their release.

"The relentless crackdown on human rights defenders in Saudi Arabia will not be met with silence."
Escalating crackdown on human rights defenders
Loujain al-Hathloul, Iman al-Nafjan and Aziza al-Yousef have faced accusations in state-aligned media which include forming a "cell" and posing a threat to state security for their "contact with foreign entities with the aim of undermining the country's stability and social fabric". Amnesty understands that the three women may be charged and tried by the country's notorious counter-terrorism court, which has been used in other instances to try human rights defenders and deliver harsh prison sentences.
Earlier this month, two more prominent women human rights activists - Samar Badawi and Nassima al-Sada - were also detained. Mohammed al-Bajadi, another prominent women's rights activist, was also detained in May.
The crackdown began shortly before Saudi Arabia lifted the ban on women driving in the country. Many of the activists detained campaigned for the right to drive and the end of the repressive male guardianship system in Saudi Arabia for many years. The crackdown comes despite Crown Prince Mohammad bin Salman presenting himself as a "reformer" in recent months. His international public relations campaign contrasts sharply with an intensifying crackdown in the country, including those campaigning for equal rights for women. Amnesty is calling for an end to all forms of discrimination against women in Saudi Arabia, including the guardianship system.
Samah Hadid, Amnesty International's Middle East Campaigns Director, said:
"It is absolutely outrageous that so many brave human rights defenders in Saudi Arabia are still being held without charge - apparently for simply speaking out against injustice.

"They have been detained without charge and with no legal representation for more than three months. This must not go on any longer. The world cannot carry on looking the other way as this relentless persecution of those who stand up for human rights in Saudi Arabia continues.

"Saudi Arabia must release all prisoners of conscience immediately and unconditionally, and end the draconian crackdown on freedom of expression in the country."
Amnesty's global 'Brave' campaign
At least 3,500 human rights defenders have been killed globally since 1998 - an average of 180 deaths a year. Amnesty is campaigning to ensure the UK's Foreign Secretary makes supporting human rights defenders a priority.