Saudi Arabia: wider reforms must follow lifting of women's driving ban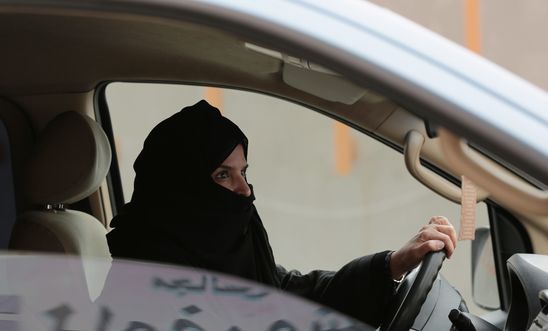 Saudi Arabia has long been the only country in the world to stop women from driving © Rex Features
With notorious ban due to be lifted on Sunday, eight jailed women's rights activists face long prison sentences after 'chilling' smear campaign   
'It is outrageous that women are still treated like second-class citizens in Saudi Arabia' - Samah Hadid
'UK ministers have been keen to talk up Saudi Arabia's 'reforms', but haven't yet called for these brave women's rights activists to be freed' - Kate Allen
Ahead of the lifting of the ban on women drivers in Saudi Arabia on Sunday, Amnesty International has called for wide-ranging women's rights reforms and for the release of eight recently-detained women's right activists.
Leading women's rights activists and campaigners against the driving ban - including Loujain al-Hathloul, Iman al-Nafjan and Aziza al-Yousef - are among eight people still being detained for their peaceful human rights work. Some have been detained without charge for more than a month, and may face trial before the country's counter-terrorism court and up to 20 years in prison for their activism.
Meanwhile, on 19 May the Saudi authorities and government-aligned media launched what Amnesty called a "chilling smear campaign" against five of the detained activists. Official statements in government media accused them and others of forming a "cell" and posing a threat to national security for their "contact with foreign entities with the aim of undermining the country's stability and social fabric".
The latest crackdown comes despite Crown Prince Mohammad bin Salman presenting himself as a "reformer", not least with reference to the lifting of the driving ban. 
However, Amnesty has repeatedly warned that the reality in Saudi Arabia is of a widening crackdown on all human rights activists and dissidents. Even when the royal decree to lift the driving ban was announced last September, women who had campaigned against the ban reported receiving telephone calls warning them against publicly commenting on the news. 
Guardianship laws
The detained activists have long campaigned for the right to drive and for an end to Saudi Arabia's repressive male guardianship system.
 
Under the repressive guardianship system, women and girls face systematic discrimination, both in law and in practice. Women are unable to travel, engage in paid work or higher education, or marry without the permission of a male guardian. In addition, Saudi Arabian women married to foreign nationals cannot pass on their nationality to their children, unlike Saudi men in the same situation.
Amnesty is calling for an end to all forms of discrimination against women in Saudi Arabia, including the guardianship system.
Samah Hadid, Amnesty International's Middle East Campaigns Director, said:
"The lifting of the ban is a long-overdue small step in the right direction, but must now be followed by reforms to end a whole range of discriminatory laws and practices. 

"It is outrageous that women are still treated like second-class citizens in Saudi Arabia.

"While we welcome the fact that women can finally get behind the wheel, we should not forget that many people are still behind bars for their work in fighting for women's rights in Saudi Arabia.

"If Crown Prince Mohammad bin Salman truly believes himself to be a reformer, he should free the women's rights activists, and include activists and civil society members in Saudi Arabia's reform process."
Call on UK Government
Amnesty is also calling on countries around the world to support the embattled human rights community in Saudi Arabia, including by speaking out about the detained women's human rights defenders. 
Kate Allen, Amnesty International UK's Director, said:
"Outrageously, the Saudi authorities are trying to have it both ways with this - basking in the glory of lifting the driving ban while throwing women human rights defenders into jail.

"UK ministers have been keen to talk up Saudi Arabia's 'reforms', but haven't yet called for these brave women's rights activists to be freed. They should. Before Sunday."
Women's rights activists' quotes
When she announced the launch of the campaign against the driving ban in October 2013, Loujain al-Hathloul said: "We are launching a new campaign for women's right to drive. If you didn't get the chance to participate in 1991 or 2011, there is a new campaign opportunity on 26 October 2013. It is unjust for men authorities to stop us, there are no laws or regulations that forbid women from driving."
Writing for CNN in September 2017, Iman al-Nafjan said: "Now with the driving ban lifted, other issues seem conquerable. The biggest issue at the moment is the guardianship system." And in October 2016, Aziza al-Yousef said: "Our freedom of movement is one of our demands in the campaign to end male guardianship."
The movement for the right to drive
Women in Saudi Arabia have publicly campaigned to lift the ban on them driving since 1990, when some 40 women drove cars down a street in the capital Riyadh. They were stopped by police and some were suspended from work.
Since then, protests have re-emerged. In 2007, campaigners sent a petition to the late King Abdullah, while the following year campaigner Wajeha al-Huwaider filmed herself driving and posted the video online to mark International Women's Day. Saudi women again posted videos of themselves behind the wheel in 2011. Some were arrested and others forced to sign pledges not to drive. At least one woman was tried and sentenced to ten lashes.
 
In October 2013, women's rights activists launched a new campaign to overturn the ban. Soon afterwards, activists received threats from the authorities and their website was hacked. Despite the intimidation, scores of women filmed themselves driving and posted videos online. Some were arrested, most of whom were subsequently released.