Vigil for murdered student Giulio Regeni at Egyptian Embassy in London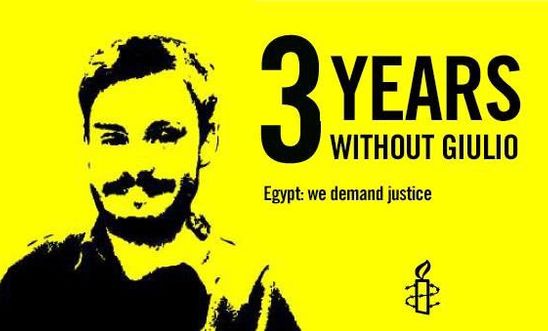 The Cambridge PhD student was researching trade unions in Egypt when he was abducted
Cambridge and London Amnesty groups to hold sombre event at Egyptian Embassy on Saturday 2 February, 12-1pm
Letter demanding full investigation into Italian PhD researcher's murder in Egypt three years ago to be delivered to embassy
'The demand for truth for Giulio will not go away' - Sue Woodsford
A vigil for the Cambridge University student Giulio Regeni - who was murdered in Egypt three years ago - will take place on Saturday 2 February (12-1pm) outside the Egyptian Embassy in central London.
At the vigil, Cambridge and London Amnesty group members and members of the University and College Union will display placards and a banner bearing the message "Truth for Giulio". Statements from Amnesty campaigners and Mr Regeni's parents - Claudio and Paola Regeni - will also be read out. 
Activists will deliver a letter to the Egyptian embassy demanding a full, impartial and independent investigation into the disappearance, torture and death of the 28-year-old student.    
Over the past week, similar vigils have taken place in Cambridge and in 100 cities across Italy, where there is still widespread outrage regarding Regeni's unsolved murder. At a recent vigil in Cambridge, a statement from Mr and Mrs Regeni referred to "their path of pain" in seeking justice for their son, but also said they would "not give up".
Regeni, a student at Girton College, had travelled to Egypt to research the country's trade unions as part of his PhD work. After going missing, his mutilated body was found ten days later in a ditch outside Cairo. Evidence strongly suggests the involvement of the Egyptian authorities in Regeni's killing, though no charges have ever been brought against those responsible.
In recent years, hundreds of people have been forcibly disappeared in Egypt, with many held for months in unacknowledged detention by state agents.
Sue Woodsford, Chair of Amnesty International's Cambridge City group, said:
"The demand for truth for Giulio will not go away.  

"Whoever committed this terrible crime, it is the clear responsibility of the Egyptian government to conduct a full inquiry.

"We need to see the perpetrators of his disappearance and death brought to justice."