USA: Trump's reported 25,000 refugee cap would put people in 'grave danger'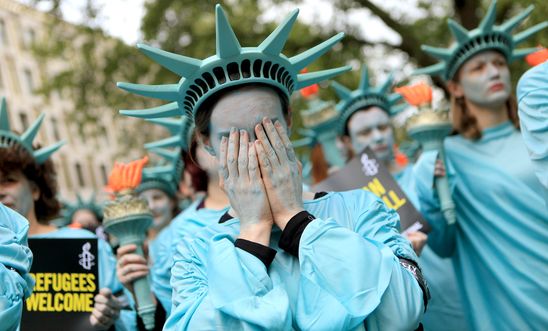 Campaigners outside the US Embassy in London last year © Amnesty International
USA has accepted fewer than 20,000 refugees in current fiscal year
'The Administration's policies are denying thousands of refugees a chance at a new life' - Ryan Mace 
Responding to reports that Donald Trump may seek to cap the USA's admission of refugees at no more than 25,000 for the Fiscal Year 2019, which would be the lowest level in the history of the US Refugee Admissions Programme, Ryan Mace, Grassroots Advocacy and Refugee Specialist at Amnesty International USA, said: 
"The United States betrays both its values and long history of helping those escaping war, persecution, and horrific violence when it denies refuge to those for whom resettlement is the only option. 

"The Administration's policies are denying thousands of refugees a chance at a new life. 

"Many refugees are also hoping to be reunified with their families here in the US - some of whom have waited years to see their family again. 

"People across the United States are ready to stand with the global community in welcoming refugees as their neighbours, colleagues, classmates, families, and friends. 

"The Administration's policies continue to keep people in grave danger." 
Under the Trump Administration, the United States has drastically shrunk its refugee programme over the last two fiscal years, with an extremely low refugee admissions level of 45,000 refugees to be resettled in Fiscal Year 2018. To date, the US has resettled fewer than 20,000 refugees for this period.