USA: Supreme Court abortion ruling would be 'massive blow' to gender rights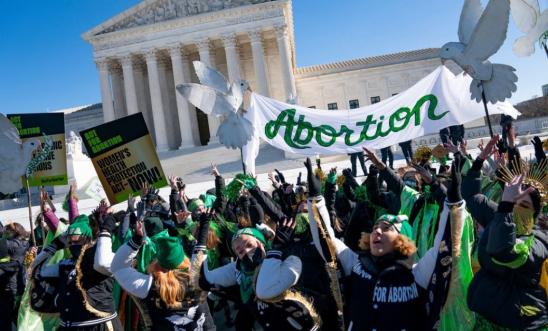 A pro-choice demonstration outside the US Supreme Court in January © AFP via Getty Images
Leaked opinion shows court preparing to strike down historic Roe v Wade ruling
'The United States is going back in time and putting the lives and freedom of millions at risk' - Tarah Demant
'The fight against attempts to roll back abortion rights is one we know only too well' - Grainne Teggart on Northern Ireland
Responding to a leaked draft ruling showing that the US Supreme Court has voted to overturn abortion rights, Tarah Demant, Amnesty International USA's Interim Director of Programmes, Advocacy and Government Affairs, said:
"If confirmed, it is an egregious violation of human rights to deny people access to abortion. 
"This will force women, girls and people who can become pregnant to carry pregnancies against their will and to seek out unsafe abortion. 

"This ruling overturns over 40 years of essential protections in the United States of the rights of women, girls and those who can become pregnant, and is a massive blow to gender equality.
 
"Abortion is a basic healthcare need for millions of women, girls and people who can become pregnant. 

"Forcing someone to carry a pregnancy, for whatever reason, is a grotesque violation of human rights.

"While much of the world is expanding human rights, including the right to abortion, the United States is going back in time and putting the lives and freedom of millions at risk."
Northern Ireland
Amnesty International's campaigning for abortion rights continues in the UK. Northern Ireland is still waiting for fully-commissioned and accessible abortion services despite historic reform which decriminalised abortion.
Grainne Teggart, Campaigns Manager for Amnesty International UK, said: 
"The fight against attempts to roll back abortion rights is one we know only too well, and we offer full solidarity to campaigners in the USA and those who will be devastatingly impacted by this.

"In Northern Ireland, despite securing decriminalisation and overturning our near-total abortion ban, we are still waiting for fully-commissioned services. 

"We call on the Secretary of State to act urgently and ensure abortion rights in Northern Ireland are fully realised. Choice must be respected and protected - the only way to achieve this is through a service that is fully resourced and accessible to all who need it.

"Abortion is a human right - it's time access to this vital healthcare was guaranteed for all who need it."