USA: 'final plea' to Obama to close Guantánamo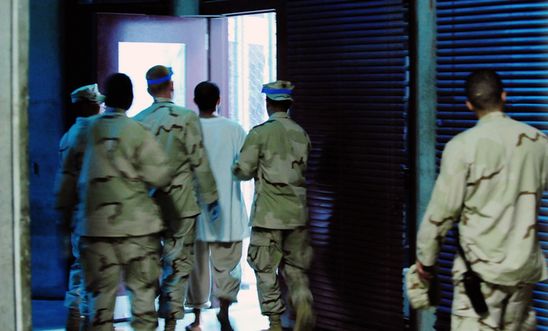 There are still 55 detainees at the camp, most of whom have still not been charged with an offence © US Department of Defense
'There should be no question of the UK accepting the 'normalisation' of Guantánamo under President Trump' - Kate Allen
Ahead of the 15th anniversary (11 January) of the first detainees arriving at the detention facility at the US naval base at Guantánamo Bay in Cuba, Amnesty International is warning that the fate of the remaining detainees must not be left in the hands of the incoming president Donald Trump.
On the eve of the 15th anniversary, there are 55 people still held at Guantánamo, 45 of them detained without charge or trial. The ten others have faced or are facing military commission proceedings that fail to meet international fair trial standards binding on the USA, and six are currently facing the possibility of the death penalty after such unlawful trials (for more on the current state of Guantánamo see this new
briefing
).
Amnesty has published an
open letter
making a "final plea" to President Obama to close down the camp.
Although Mr Obama's administration has blamed the US Congress for blocking the closure of Guantánamo, under international law domestic legislation or politics are not legitimate excuses for a country's failure to meet its treaty obligations.
Meanwhile, President-elect Trump indicated before the US election that he would keep the Guantánamo detention facility open would "load it up with some bad dudes". 
Margaret Huang, Executive Director of Amnesty International USA said:
"Eight years ago, President Obama began his presidency by pledging to close the detention camp at Guantánamo Bay. He should end his presidency by fulfilling that promise. 

 

"Today, it remains a living symbol of US human rights abuses. The vast majority of the people who remain there have never been charged with, let alone tried for, any crime. 

 

"President-elect Trump has indicated that, instead of closing Guantánamo, he would like to add to the population or attempt a return to large-scale, systematic torture. 

 

"The urgency is clear: President Obama must not leave Guantánamo to Trump."
Amnesty International UK Director Kate Allen said: 
"Successive UK governments have publicly supported the closure of Guantánamo and this must continue under Donald Trump.

 

"There should be no question of the UK accepting the 'normalisation' of Guantánamo under President Trump.

 

"If there are detainees still behind bars at Guantánamo on 20 January, we'd want to see UK minsters firmly and unequivocally calling for Guantánamo's closure and for all remaining detainees to be either properly tried in civilian courts or released."
Legacy of abusive CIA programme
About half of the detainees still at Guantánamo were, before being transferred to the base, held in the CIA's secret detention programme, and Guantánamo itself was used as a CIA "black site" during 2003 and 2004. Enforced disappearance and other forms of torture and other cruel, inhuman or degrading treatment were widely used within the CIA programme. There has been almost no accountability for the numerous human rights violations committed as part of this programme.