USA: authorities in Florida should close down Homestead child migrant detention centre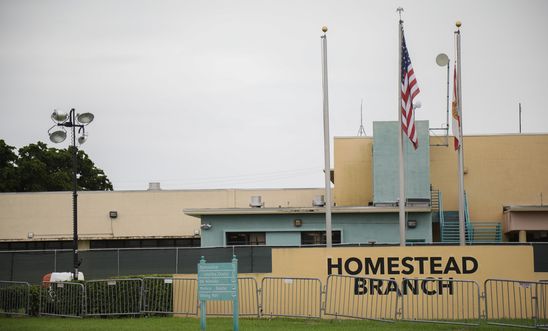 The detention centre held 2,148 children when Amnesty visited in April © Lauren Murphy
2,000-strong 'temporary' detention facility holds children as young as 13 for months at a time
Instead of a maths lesson, children were copying the words of the US Pledge of Allegiance
'The senseless detention of children … is a stain on the US human rights record' - Denise Bell
A detention centre in the US state of Florida which holds 2,000 migrant children must be shut down as quickly as possible, said Amnesty International today.
In a new report, Amnesty described the detention centre - a "temporary influx" facility in the Miami suburb city of Homestead - as "an industrial line for processing mass numbers of children". 
The centre, which holds unaccompanied children - many from persecution-riven Central American countries - is holding large numbers of children for an average of around two months, but in some cases for up to three months or longer. 
In some cases, children have tried to escape from Homestead, and Amnesty's report describes the detentions as "unlawful". 
Amnesty visited the Homestead facility twice this year - first in April and again in July - and the organisation's 41-page report (No Home For Children) describes how the 13-17-year-olds held there receive inadequate care amid a highly regimented schedule. All child detainees are required to wear ID badges with barcodes which are scanned when they enter or leave buildings. Request forms have to be filled out for even the most basic services, with girls required to submit a request form if they need sanitary products . 
While the children receive educational services, classes do not follow the Florida school curriculum. On the day Amnesty visited, children were supposedly being instructed
in maths - yet there were no math books in front of them, instead handbooks in which they were copying the words of the US Pledge of Allegiance. Meanwhile, many of the children face severe language barriers in accessing any services at all. 
Amnesty's report stresses that children should almost never be detained, but in exceptional circumstances where they are it should be for the shortest possible length of time in the least restrictive setting possible. The continued use of "temporary" facilities such as Homestead to detain child migrants should be immediately discontinued, said Amnesty, and the organisation is calling for all children currently held in such conditions to be placed in licensed, small-size shelters and released to appropriate sponsors.  
Amnesty also calling for investigations into the conditions at Homestead and other government facilities detaining migrant children, as well as increased access for NGOs and members of Congress who wish to visit these facilities.
Denise Bell, Researcher for Refugee and Migrant Rights and Amnesty International USA, said: . 
"Homestead is not a home for children.

"Homestead is an industrial line for processing mass numbers of children, instead of focusing on their best interests. 

"The facility in Homestead, Florida must be shut down as quickly as possible and children should be immediately placed in licensed, small-size shelters and released to appropriate sponsors. 

"The senseless detention of children who faced horrific violence and persecution in their home countries, only to be put behind bars in the United States, is a stain on the US human rights record.

"Children detained in Homestead are frightened, alone, and far from home.

"Children who come to the US should be treated just like any other children and receive our care, not our contempt."
Numbers held at Homestead
When Amnesty visited Homestead on 2 April, there were 2,148 children held at the facility. Staff told Amnesty the population was 2,059, and capacity was 2,142. However, Amnesty observed in the Control Room that the population was listed as 2,148 - meaning that the facility was technically already over capacity when Amnesty made its visit. The Programme Director at Homestead later informed Amnesty that the facility planned to expand to house 2,350 children "as soon as they could staff up".
According to staff at Homestead, 40% of the children there on 2 April were 17-year-olds, with smaller proportions of 13-16-year-olds. Forty percent of the children were from Guatemala, followed by large representations from Honduras and El Salvador. There were small numbers of other nationalities present, including children from Ecuador, Colombia, Cuba and Bangladesh. The Programme Director informed Amnesty that although the contract for the facility stipulates that the population should be 75% male and 25% female, there can be flexibility over this. 
Downloads