USA: Amnesty International sends senior leadership delegation to US-Mexico border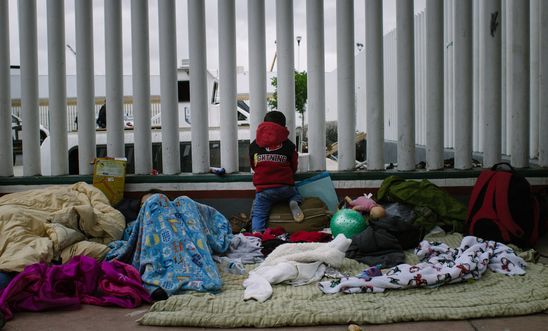 Billboard and migrant caravan in Tijuana © Sergio Ortiz/Amnesty International
'We must not abandon those who have lost everything and are trying to rebuild their lives' - Margaret Huang
Amnesty International and the National Immigrant Justice Center have travelled to the US-Mexico border to meet with Mexican and US authorities.
The delegation will be documenting the deteriorating conditions at the shelters in Tijuana for families and individuals waiting to process their asylum applications, and meeting with NGOs directly working with asylum-seekers in El Paso.
Margaret Huang, Amnesty International USA's Executive Director, said:
"We have come together to show the US government that the eyes of the world are on the southern border.
"While President Trump continues to fight for a border wall, thousands of children and families are being forced to wait for protection while enduring dangerous conditions in Mexico.
"The US government has manufactured this crisis, defying international law while heartlessly putting families and individuals in harm's way. Families and individuals traveling to the border are not a national security crisis - they are people like you and me, except that they have left their home to seek protection from persecution and violence.
"We must not abandon those who have lost everything and are trying to rebuild their lives."
Amnesty has previously documented a range of human right violations committed by the US government against asylum-seekers at the southern border with Mexico, including illegal pushbacks, ill-treatment in immigration detention, and devastating policies such as family separation and detention.