UK/USA: letter to US ambassador Woody Johnson warns of election violence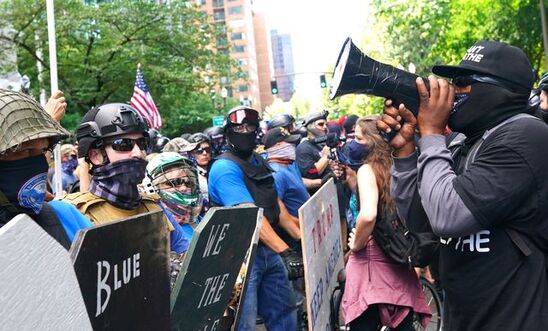 Protesters clashing in Portland in August © Getty Images
Amnesty UK head says US law-enforcement should be on 'high alert'
Call for guns to be banned near polling stations
'We need to see an end to the politics of hate' - Kate Allen
Amnesty International UK has written to the US Ambassador to the UK, Woody Johnson, warning of the risk of violence during next week's presidential election.
The letter, from Amnesty UK's Director, Kate Allen, says that Amnesty is "deeply troubled" by the "widespread availability of guns", and what appears to have been an "incitement to violence and the enabling and abetting of white supremacy" by President Trump and others ahead of Tuesday's ballot. 
The two-page letter says that US law-enforcement officials should be on "high alert" in coming days to "prevent political violence in this explosive moment".
The letter comes as new figures show that nearly 17 million guns were sold in the United States from January to September this year, already higher than the previous annual high. 
Amnesty takes no position for or against any party, candidate or official, but has written to the ambassador because of heightened fears of disturbances during the final days of the election process.
Kate Allen, Director of Amnesty International UK, said: 
"Our letter to Ambassador Johnson is a sign of just how degraded the political culture has become in the United States. 
 
"It shouldn't need saying, but there should be no guns at US polling stations and no intimidation of voters of any kind. 

"Whoever wins this election, we need to see an end to the politics of hate."
Meanwhile, earlier this week, Bob Goodfellow, Interim Executive Director of Amnesty International USA, said:
"The US authorities must ensure that everyone is free from armed intimidation at the polls, as well as guaranteeing freedom of expression and peaceful assembly, whatever the outcome of the election. This includes preventing police abuses and gun violence, and protecting all people from racism and discrimination."
Guns at polling stations
Earlier this month, Amnesty called on US state governors to ban guns at or near polling stations during the elections to ensure the safety of voters, poll workers and the wider community. Amnesty has researchers prepared for rapid deployment in the event of serious abuses at protests or near polling stations, and will monitor social media and other online platforms to document such violations. Last week, Amnesty published a report showing how police in various US states have failed to take preventive measures to avoid disruption during Black Lives Matter and other protests in recent months.