Ukraine: both sides must cease firing in residential areas after Donetsk deaths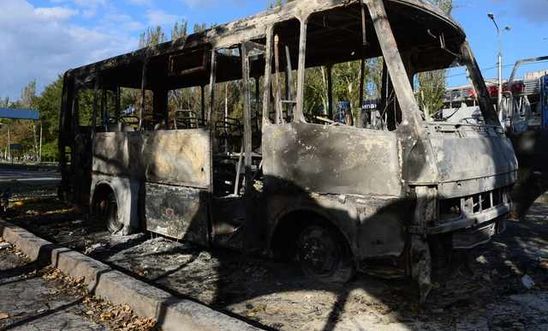 Five people were killed when a bus was hit © JOHN MACDOUGALL/AFP/Getty Images
Ukrainian forces and pro-Russian rebels both using notorious imprecise Grad rockets
Ukrainian and rebel forces must immediately end indiscriminate attacks in residential areas, Amnesty International said today, after at least nine civilians were killed in strikes on a school and a bus in Donetsk. 
The latest attacks, which took place in the Kievskiy district of the city, came as Amnesty documented a pattern of indiscriminate shelling and rocket attacks in the area by Ukrainian forces in the past ten days. A local council building and numerous homes were also reportedly hit today in the Kievskiy district, a largely residential area bordering Donetsk airport. It is feared that other civilians may have been injured or killed in the attacks. 
Today's attacks resulted in the highest civilian toll in a single day since a ceasefire was struck between Kiev and pro-Russian separatists in early September. Four civilians were killed in the shelling of a school, which had more than 50 children inside at the time, on the day schools across the city opened following a month-long delay due to fighting. Another five civilians were killed when a minibus was hit - either by rocket fire or a mortar. 
Meanwhile, six civilians were killed in the Kievskiy district on Sunday, all in the same area as today's attacks. 
In a visit to Kievskiy on Monday, Amnesty delegates saw a large rebel artillery piece sitting in the middle of a residential street, less than ten metres from a house.  Over the past ten days, Amnesty found evidence of indiscriminate attacks by rebel fighters hitting civilian areas in Debaltseve, northwest of Donetsk, and Avdiivka, just north of Donetsk airport. 
Both parties to the conflict have been employing Grad rockets, notoriously imprecise weapons which should not be used in civilian areas, and both sides have been responsible for a pattern of indiscriminate attacks on populated areas, killing and injuring civilians and destroying their homes. 
Amnesty International Europe and Central Asia Director John Dalhuisen said:
"Ukrainian government forces must immediately stop firing on residential areas in Donetsk. These attacks are unlawful because Ukrainian forces are using weapons in populated areas that cannot be targeted with sufficient accuracy to distinguish between civilian objects and military objectives."
Mr Dalhuisen also pointed out that rebel forces are themselves violating the law of war, saying:
"By basing military targets in residential areas, rebel forces have failed to take all feasible precautions to protect civilians and have endangered civilians in violation of the laws of war. By carrying out military operations in the neighbourhood, rebel forces share responsibility for these latest attacks with the Ukrainian forces."