UK: virtual walk from London to Tehran for Nazanin Zaghari-Ratcliffe, Anoosheh Ashoori and Mehran Raoof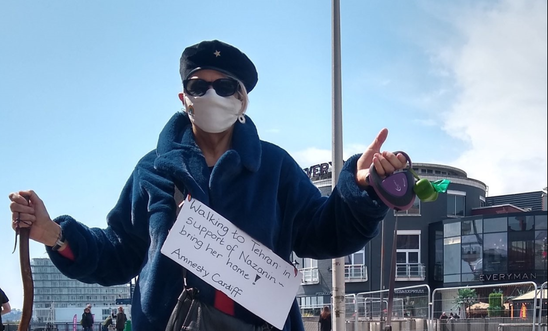 Elaine Moore, a member of the Cardiff Amnesty group © Amnesty International
Amnesty Cardiff's 'London-Tehran challenge' will see supporters across UK clocking up 2,730 miles to raise funds and awareness of the dual-nationals' plight
'We are with these persecuted people every step of the way' - Owen Collins
Amnesty International supporters have launched a "London-Tehran challenge", a virtual walk to raise funds and awareness of the plight of three UK-Iranian joint-nationals arbitrarily detained in Iran.
The initiative, the work of the Amnesty Cardiff group which has long campaigned for Nazanin Zaghari-Ratcliffe, will see supporters across the UK collectively walking the 2,730 miles that represents the distance from London to the Iranian capital Tehran.
Operating in conjunction with the fundraising platform Wonderful, the event aims to raise awareness of the plight of retired engineer Anoosheh Ashoori, 67, and labour activist Mehran Raoof, 64, as well as provide a further profile for the well-known case of the London mother Zaghari-Ratcliffe who has been arbitrarily held in Iran since April 2016. Zaghari-Ratcliffe was recently given a new one-year jail sentence - described as "devastating" by Amnesty - after completing a five-year jail term following an unfair trial in 2016.
Throughout May, Amnesty's #WonderfulWarriors will cover the 2,730 miles from London to Tehran while spreading awareness of the three cases. Participants are walking with banners and signs to prompt conversations - and will be sharing their images on social media with one consistent message to the UK government: #BringThemHome.
Participants have already raised more than £1,000 to support Amnesty's campaign work to amplify the voices of the relatives of the three detained dual-nationals.
Owen Collins, Chair of Cardiff Amnesty International group, said:
"If they can't come to us, we'll go to them.

"We're inviting everyone to walk, run, scoot, skate and cycle the 2,730 miles from London to Tehran in support of Amnesty's work to free British nationals unjustly imprisoned in Iran. 

"Our #WonderfulWarriors will show that we are with these persecuted people every step of the way and that together we will #BringThemHome to their loved ones in the UK."
Wonderful fundraising
The fundraising event is part of Wonderful's Miles Better initiative. Together, fundraisers will take around 200 million steps in a national challenge to raise £100,000 for three headline organisations: Amnesty International UK, Cancer Research UK and the National Emergencies Trust.
For more information, go here.