UK: Student journalists chance of experience at The Observer and prestige of winning Amnesty Award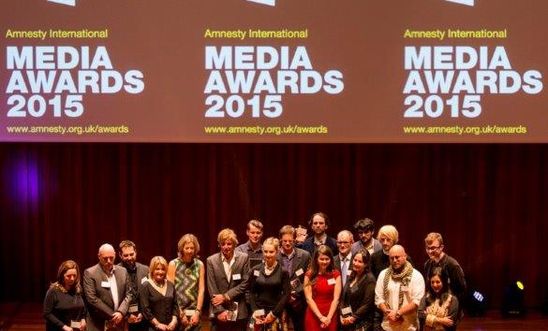 2015 winners © Kristian Buus for Amnesty International
"If any of you reading this are considering applying for Amnesty International's Student Media Award, I have four words for you: just go for it.

"I would not be where I am today without it."  Amnesty Student Media Award winner 2012 

Amy MacKinnon
Entry is free. Deadline: 1 August 2016
The opportunity to win a fortnight's work experience at The Observer and the prestige of attaining a coveted Amnesty International Media Award is now possible, as Amnesty International today invites all students in the UK to enter its
Best Student Journalist Award
.
Amnesty International's Best Student Journalist Award for human rights reporting – which is run in collaboration with National Union of Students and the Observer – is open to any student studying in a UK university, higher education college or further education college or who was a student at a UK Further Education or Higher Education institution at the time that their article was published or broadcast.
Students from Oxford University, Edinburgh University and Glasgow University are just some of the winners of this prestigious Award for their reporting on human rights in previous years.
Amy Mackinnon, Amnesty International 2012 Student Media Award winner, won for her piece in The Glasgow Guardian called "The curious case of John Oguchuckwu" which highlighted the story of a young man who was forcibly removed' from the UK to Nigeria where he was at risk of persecution and torture. 
Now working in Moscow as a Senior Editor for Coda Story, an online platform for crisis and conflict coverage Amy said:
"Winning the Amnesty International Media Award opened up numerous opportunities but perhaps most importantly it gave me the confidence to pursue a career in journalism."  
The Observer's Deputy Editor of the New Review, Ursula Kenny said:
"Winning an Amnesty Award is such a great achievement, whether you're a student or established correspondent. It's so important that the presenters, correspondents and editors of tomorrow recognise the importance of human rights reporting. Lives can change, attitudes can shift and governments abuses can be exposed if journalists dare to speak out, investigate and report on these issues. This is why we at The Observer are so delighted to support this Award." 
Amnesty International UK Director Kate Allen said:
"The Best Student Journalist Award is one of Amnesty's most important accolades. Repeatedly through history it is journalists that have exposed human rights atrocities. It is their brave work that has shone a spotlight on some of the world's bleakest parts.

"Through this award we hope to encourage the editors, correspondents and reporters of tomorrow to take up that mantle. Human rights reporting may not be easy, but it can be rewarding, and truly life-changing."
 
Richard Brooks, NUS vice president for union development said:  
"The campaigning power of students' unions and the vital role of a free press in highlighting human rights abuses – not just in the student movement but on a national and international level – is a proud part of NUS' history, and we will continue to support student journalists in pursuing stories that will change the world around them."
Award recipient, Amy Mackinnon added:
"If any of you reading this are considering applying for Amnesty's Student Media Award, I have four words for you: just go for it. I would not be where I am today without it."  
Background information
 Entry is free. Deadline: 1 August 2016
Students can submit entries which are reports or articles addressing a human rights issue which have been published in either a recognised student media outlet, or in a national/ or regional media outlet. Personal blog posts are not eligible for entry. A piece of journalism completed as part of a university course is also permissible.  
Entries must be for publications, or pieces written between 1 August 2015 and 31 July 2016.