How winning the Amnesty Student Media Award helped shape my journalism career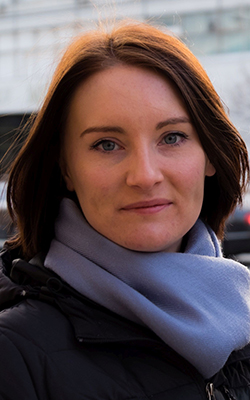 Every journalist has their own story of how they got started, and each one is different. Some are more conventional, others are tales of persistence, talent or good timing. For me, it all began with the Amnesty International Student Media Award.
I'd always wanted to be a journalist, but with no clear career path to follow, it felt distant and inaccessible, like aspiring to become a ballerina or an astronaut. Like many a journalist, I started out by writing for my university's newspaper, covering the perennial student stories – protests, course cuts and education policy. Whilst waiting to interview a university official, I got chatting to activists from a student society who told me about John.
I once read somewhere that a measure of a human rights abuse is the degree to which it inflames the conscience, and John's story certainly did that. Having suffered unimaginable persecution, John had fled his native Nigeria to claim asylum in the UK. Over the course of ten years he put down roots in Scotland and had become a model student and active member of his community. However, with just two weeks' notice, John was once again uprooted and deported back to Nigeria. He was a fellow student from our own university and all I could think was, 'this has to be talked about.'
After interviewing a tearful and distraught John over skype – still one of the more harrowing interviews I've ever done – I wrote up his story. A few months later my editor encouraged me to put the article forward for the Amnesty's Student Media award. With classic self-effacing Britishness, I very almost didn't apply, assuming I wouldn't stand a chance. Weeks went by and I had all but forgotten I had applied, until I received an email, 'Congratulations from Amnesty', informing me that I had been shortlisted and was invited to the awards ceremony. I was in shock.
The awards ceremony in London was both humbling and inspiring. I was surrounded by journalists whose work I had long admired, many of whom had gone to incredible lengths to bring to light grave human rights abuses from some of the most inaccessible regions of the world. The final honour of the evening was awarded posthumously to Marie Colvin who just a few months previously had been killed whilst reporting from the besieged city of Homs, Syria.
Winning the Amnesty International Media Award opened up numerous opportunities but perhaps most importantly it gave me the confidence to pursue a career in journalism. As a direct result of the award I picked up freelance work with Channel 4's Dispatches and BBC Radio Scotland which laid the foundations for my career in journalism. Since then I have written for Foreign Policy, a number of Scottish newspapers and have reported for BBC Radio Scotland from four countries.
Four years on, my interest in human rights journalism is as strong as ever. I am writing this from Moscow, where I am working as Senior Editor for Coda Story, an online platform for crisis and conflict coverage and have spent the last six months reporting on Russia's LGBT rights crisis.
If any of you reading this are considering applying for Amnesty International's Student Media Award, I have four words for you: just go for it. I would not be where I am today without it.
Written by Amy Mackinnon – Amnesty Student Journalist Media Award Winner 2012, current journalist
About Amnesty UK Blogs
Our blogs are written by Amnesty International staff, volunteers and other interested individuals, to encourage debate around human rights issues. They do not necessarily represent the views of Amnesty International.
View latest posts