Kicking off my career with the Amnesty Student Media Award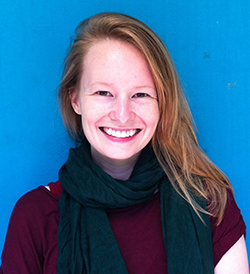 In 2013 I entered and won the Amnesty International Student Human Rights Reporter Competition, organised by Amnesty International UK in partnership with NUS, the Observer and the Pulitzer Center on Crisis Reporting.
Being a part of the competition was a wonderful experience and I would strongly encourage anyone with an interest in journalism and human rights to apply, regardless of how much experience they have.
The article I wrote on forced marriage in the UK was only one of a handful I had written whilst at university; but, as the subject of my Masters research, it was something I'd been thinking about for a while.
I thoroughly enjoyed researching and writing the article and never expected to be short-listed for the award, let alone announced as winner at the Media Awards in London. It was truly an honour to be a part of such an important and enjoyable event.
After the ceremony, I undertook a student reporting fellowship at the Pulitzer Center on Crisis Reporting in Washington DC. The fellowship was the main prize of the Amnesty award and involved a $2,000 travel grant.
After much deliberation, and following my interest in gender, labour, and human rights, I decided to go to Rio de Janeiro, Brazil, where I researched and wrote about sex workers' rights ahead of the 2014 World Cup.
Exploring Rio and engaging with journalists, academics and activists over a five-week period was one of the most challenging and rewarding experiences of my life; moreover, being able to write for major media outlets such as Thomson Reuters Foundation, The Huffington Post, and the Guardian as an Amnesty award-winner and Pulitzer student fellow enabled me to launch my writing career.
I am sincerely grateful to Amnesty International UK, NUS, the Observer and the Pulitzer Center on Crisis Reporting for this once-in-a-lifetime opportunity.
Written by Lauren Wilks – Amnesty Student Journalist Media Award Winner 2013 and PhD student
About Amnesty UK Blogs
Our blogs are written by Amnesty International staff, volunteers and other interested individuals, to encourage debate around human rights issues. They do not necessarily represent the views of Amnesty International.
View latest posts