UK Pride: Amnesty urges action for 'silenced' LGBTI communities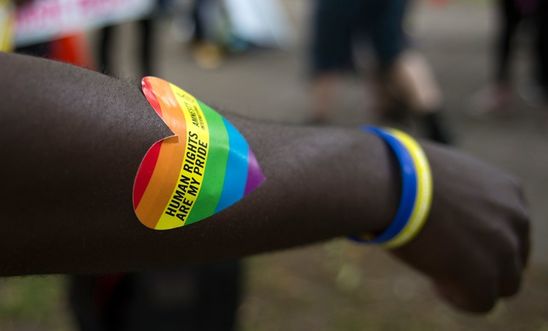 Hundreds of Amnesty activists will be calling for the release of a transgender woman held in US immigration detention during Pride events this weekend 
"This Pride season, we march in solidarity with all LGBTI people around the world facing persecution, discrimination and violence" - Senthorun Raj
Amnesty International activists will take to the streets this weekend to join Pride celebrations taking place across the UK.
Hundreds of Amnesty supporters have been taking part in UK Pride events since May to celebrate equality and diversity, and to raise awareness about the specific discrimination faced by asylum seeker, refugee, and black and minority ethnic LGBTI communities.
During Pride events this weekend - including London Pride, UK Black Pride, and Sparkle Weekend in Manchester - Amnesty activists will be calling for the release of a transgender woman from El Salvador who is being cruelly held in US immigration detention after fleeing persecution and violence in her home country.
Senthorun Raj, Secretary of Amnesty International UK's LGBTI Network, said:
"Pride is all about taking a positive stance against discrimination and promoting the equality, visibility and diversity of LGBTI people.
"It's also an opportunity to speak up for LGBTI communities around the world who are denied a voice.
"LGBTI refugees and asylum seekers are often silenced, marginalised, and forced into extremely dangerous situations. They experience bullying and harassment amongst broader refugee and LGBTI communities, and are often more vulnerable to sexual violence and mistreatment by authorities.
"This Pride season, we march in solidarity with all LGBTI people around the world facing persecution, discrimination and violence. We are who we say we are – everyone should be able to live their lives to this motto freely and openly."
LGBTI refugees
LGBTI refugee communities often suffer discrimination and violence when living in their host countries - excluded and ostracised from refugee and migrant communities, subject to mistreatment by authorities, and vulnerable to poverty and extreme isolation. 
Amnesty research has shown that LGBTI refugees face appalling levels of sexual and gender based violence in refugee camps and throughout their journeys, and has detailed the extreme violence suffered by LGBTI people in Central America, who have nowhere to go for safety. A 2016 report by Stonewall and UK Lesbian and Gay Immigration Group (UKLGIG) found that LGBTI detainees in the UK were harassed and physically attacked by other detainees, with staff lacking the training to protect them or meet their needs.
Transgender woman held in US immigration detention
During Pride events, Amnesty activists will be calling for the release of Alejandra*, a transgender woman and LGBTI activist who suffered repeated attacks by a criminal gang in El Salvador. She is now being unreasonably held by Immigration and Customs enforcement (ICE) in New Mexico, where she is denied adequate healthcare.
The urgency of Alejandra's case has intensified over the past month, since Roxana Hernandez, a 33-year-old transgender Honduran woman, died in ICE custody at a hospital in New Mexico from medical complications on 25 May.
LGBTI rights
In many countries, LGBTI communities face extremely repressive laws and social marginalisation. Homosexuality is still illegal in 72 countries worldwide, with 45 countries criminalising sexual relationships between women. Eight countries still have the death penalty for homosexuality.
*Last name withheld for protection 
Amnesty's LGBTI Network will be hosting a panel discussion on LGBTI refugees at UK Black Pride with UKLGIG and African Rainbow Family - Sunday 8 July, 3.50-4.50pm