UK: NSO Group prevented from promoting notorious spyware at London expo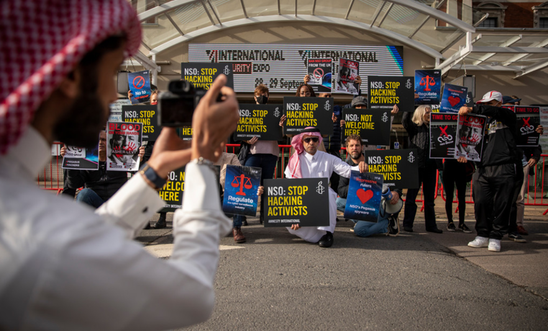 Campaigners outside the expo in west London earlier today © Amnesty International
After urgent letter to Olympia security fair organisers, NSO will not showcase intrusive surveillance equipment linked to numerous human rights violations
Firm's notorious Pegasus spyware used against journalists and human rights activists
'Trade fair organisers should not be turning a blind eye to the hacking of journalists' and human rights activists' phones' - Sacha Deshmukh 
'We have seen the scope of attacks involving NSO's Pegasus software, targeting countless citizens across the world, including in the UK' - Nabhan Al-Hanshi
The organisers of a major security fair to be held in London this week have said the controversial Israeli company NSO Group will not be allowed to exhibit its intrusive "Pegasus" spyware equipment at the event - a pledge made after Amnesty International wrote to the trade fair's organisers alerting them to NSO's track record. 
NSO, which sells the spyware known to have been used to facilitate human rights violations on a large scale around the world, was due to attend the International Security Expo 2021 being held at the Olympia London exhibition site in west London on 28-29 September.
In recent years there have been numerous revelations that NSO's Pegasus spyware has been used by the intelligence services of purchasing countries to hack the mobile devices of a large number of people, including journalists and human rights defenders.
Earlier this year, a major investigation showed how some 50,000 people around the world were selected as potential targets of Pegasus, with at least 180 journalists in 20 countries selected for potential targeting between 2016 to June 2021, alongside scores of human rights defenders and other activists. Since then, Amnesty has identified more individuals targeted by the spyware, highlighting the ever-growing scale of abuses linked to NSO's Pegasus spyware.
Evidence has also emerged showing that family members of the Saudi Arabian journalist Jamal Khashoggi were targeted by Pegasus before and after his murder in 2018. Last week, it was reported that traces of the spyware had been found on the phones of at least five French cabinet ministers.
Ahead of the Olympia trade fair, Amnesty UK's CEO Sacha Deshmukh wrote to the organisers of the fair, Nineteen Group Limited, asking them to withdraw NSO's invitation to the exhibition in order to prevent Pegasus spyware being advertised at the event. As the event organiser, said Amnesty's letter, Nineteen Group have a responsibility to avoid being involved in human rights violations, including allowing goods known to be responsible for such violations to be advertised at one of its events.
After Amnesty's letter was sent on Friday (24 September), the Expo press office contacted Amnesty with a statement from Nineteen Group which said "NSO Group will not present or promote their Pegasus system during our events next week". Nineteen Group's statement pointed out that the company does "not comment on news stories relating to our exhibitors' businesses", while adding that Nineteen works to "ensure that all participating companies and the products they present address current and emerging security challenges". 
As well as writing to Nineteen Group, Amnesty has written to the Department of International Trade saying that Government enforcement teams should "take specific action to ensure that no unlicensed brokering activity involving Pegasus spyware" takes place at the fair because of the "acute risks associated with the proliferation of these goods". The enforcement action is seen by Amnesty as a stop-gap before important changes it wishes to see to rules governing the marketing and promotion of spyware at UK trade fairs and by UK persons or companies operating overseas. Amnesty is calling on the DIT to reclassify spyware and related licensable goods and technology as a "Category A" item within the current trade controls system. Under Category A rules, spyware could not be offered for sale at UK events or by UK brokers. 
The Olympia trade fair - which bills itself as a "flagship event bringing together Government, industry, academia and the entire community in charge of regulation and procurement" of security equipment and expertise - has significant UK support, with numerous Government agencies themselves exhibiting at it. UK agencies listed as exhibitors alongside NSO on the expo website include the Border Force, British Transport Police, the Home Office's Accelerated Capability Environment (ACE) project, the MoD's Defence and Security Accelerator (DASA) team, and the UK Defence and Security Exports (UK DSE) inter-agency body. 
Sacha Deshmukh, Amnesty International UK's CEO, said:
"We welcome this assurance from the expo organisers that NSO Group will not be allowed to promote their notorious Pegasus spyware in London this week.

"With fresh cases being uncovered all the time, it's abundantly clear that Pegasus spyware has been used against a frighteningly large number of journalists and human rights defenders - as well as leading politicians and government officials - around the world.

"A firm at the centre of a growing international scandal should never be selling spyware at an event which presents itself as a mainstream security trade fair showcasing UK government equipment and expertise. 

"Hosting governments and trade fair organisers should not be turning a blind eye to the hacking of journalists' and human rights activists' phones.

"Stopping NSO from selling Pegasus at Olympia is the right thing to do, but the rules on the marketing and promotion of spyware at UK trade fairs and by UK brokers need to be changed as soon as possible."
Nabhan Al-Hanshi, acting director of London-based NGO ALQST for Human Rights - whose founding director Yahya Assiri and late executive director Alaa Al-Siddiq were both targeted by Pegasus - said: 
"We have seen the scope of attacks involving NSO's Pegasus software, targeting countless citizens across the world, including in the UK. 

"We are pleased that the company will no longer be able have free rein to promote this sinister product at the expo, but continue to urge the UK government to heed the calls from civil society and concerned citizens saying 'No to NSO' until it acts to stop misuse of its software, and urging greater regulation of the cybersecurity industry as a whole." 
*Note: since this press release was published, a spokesperson from Nineteen Group has contacted Amnesty International, saying: 
"We can confirm that NSO Group never intended on presenting or promoting their Pegasus system during our events, and it will not be on display."