UK: Natural History Museum must justify hosting Saudi Arabia event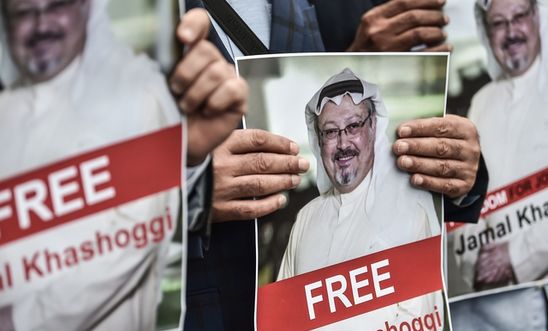 Protesters with images of missing journalist Jamal Khashoggi during a demonstration in front of the Saudi Arabian consulate in Istanbul earlier this week © OZAN KOSE/AFP/Getty Images
Event comes amid intense concern over Jamal Khashoggi's disappearance and an ongoing crackdown in Saudi Arabia 
Commenting on the Natural History Museum's hosting of a reception by the Saudi Arabian authorities this evening, Polly Truscott, Amnesty International UK's Foreign Affairs expert, said:
"As a prestigious UK institution with an international profile, the Natural History Museum should be extremely wary of allowing its facilities to be used in any way that might appear to dignify human rights violations.

"The museum needs to able to assure its many visitors and the wider public that its impressive interiors aren't being used to provide window-dressing for a country currently cracking down on human rights defenders at home, not to mention one alleged to have carried out the premeditated killing of a Saudi Arabian journalist overseas.

"The museum should ensure it has a robust policy in place to avoid any association with a negative human rights impact, not least to safeguard its own reputation.  

"The UK Government shouldn't send officials to this event unless they are prepared to openly tackle the human rights crackdown with their Saudi counterparts."
Jamal Khashoggi and ongoing crackdown
The Natural History Museum event comes as international concern heightens over the disappearance at the Saudi Arabia consulate in Istanbul last week of the high-profile Saudi journalist Jamal Khashoggi.
It also comes against the backdrop of a serious crackdown on human rights defenders in Saudi Arabia. Since September 2017, when the authorities launched a wave of arrests targeting activists, writers and religious clerics, Amnesty has been able to verify 20 arrests; some of those detained are now facing trial before the country's infamous counter-terrorism court. 
Meanwhile, in May this year there was a fresh intensification of the crackdown, with at least 12 women's rights activists detained, including the prominent "right to drive" campaigner Loujain al-Hathloul. All of these continue to be detained without charge. Again, in the past two months, several more people have been detained for peacefully exercising their rights to freedom of expression, association and assembly, and these may now face a death penalty following the public prosecution's call on their execution in their first trial session. This includes reformist cleric Sheikh Salman al-Awda and women's rights activist from Saudi Arabia's Shi'a minority, Israa al-Ghomgham.
In general, the repression of human rights activists and dissidents has intensified under the country's Crown Prince Mohammed bin Salman despite his claims over implementing "reforms".