UK: Letter to PM criticises 'lacklustre' UK response to Ukrainian refugee crisis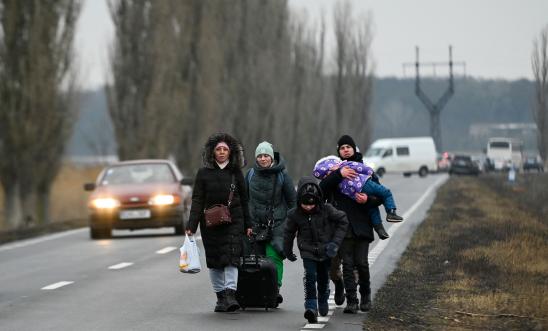 Refugees from Ukraine walk a road after crossing the Moldova-Ukrainian border's checkpoint near the town of Palanca on March 1, 2022 © AFP via Getty Images
More than two million people from Ukraine have already fled Russian invasion
'We urgently need fast-track refugee arrangements for people from Ukraine' - Sacha Deshmukh
Amnesty International has written to Boris Johnson urging him to "radically change" the UK's response to the Ukrainian refugee emergency, criticising the "chaotic" and "lacklustre" efforts made by the UK to date.
In its letter to the PM, Amnesty UK CEO Sacha Deshmukh has also welcomed the fact that the UK has committed humanitarian resources to the region and supported international justice efforts.
However, the unfolding crisis has seen the Government widely criticised for its slow and confusing response to the needs of refugees fleeing the war in Ukraine.
Amnesty has said that instead of persisting with an insistence on family visas or on sponsorship schemes, the UK should be putting in place fast-track refugee arrangements for those fleeing Ukraine.
According to UNHCR, more than two million people from Ukraine have so far fled the Russian invasion.
Sacha Deshmukh, Amnesty International UK's CEO, said:
"The Government's response to the Ukrainian refugee emergency has been chaotic, lacklustre and full of pettiness that typifies its draconian National and Borders Bill.

"The contrast with other European countries who are rapidly providing sanctuary to refugees from Ukraine is plain for all to see - and it's bringing shame on our country.

"We urgently need fast-track refugee arrangements for people fleeing the mounting horrors unfolding in Ukraine following Russia's criminal invasion.

"We need the Government to radically change its attitude towards refugees from Ukraine and elsewhere - providing a properly-managed asylum system supported by schemes that help people fleeing conflict and persecution to be speedily and safely welcomed to the UK."