UK: IOPC Tasers report 'should be wake-up call'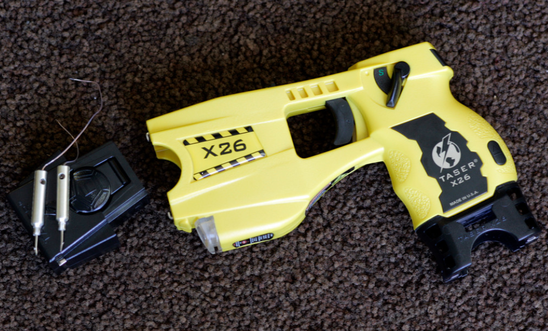 US-made Tasers are increasingly used by UK police forces © Los Angeles Times via Getty Images
Major new report from Independent Office for Police Conduct makes series of recommendations for reform of police use of the electro-shock weapons
'The police have a disturbing track record of disproportionately using Tasers against Black people and those in mental distress' - Oliver Feeley-Sprague
Responding to the publication today of a report on police use of Tasers by the Independent Office for Police Conduct, Oliver Feeley-Sprague, Amnesty International UK's policing expert and a member of the independent advisory group to the National Police Chiefs' Council lead on Tasers, said:
"This should be a wake-up call to the police and the Home Office over the use - and misuse - of these potentially lethal weapons
"The police have a disturbing track record of disproportionately using Tasers against Black people and those in mental distress.

"In some circumstances, Tasers can be effective if used by well-trained officers to prevent loss of life or serious injury - but they're open to misuse and over-use.

"Tasers are potentially lethal weapons, linked to hundreds of deaths in the USA and a growing number in Britain, and we've always said that UK police forces needed to restrict their use to highly-trained specialist officers.

"For years we've been calling for a formal review of the official guidance around all aspects of the police's use of Tasers, and this report needs to form part of wider reforms over Taser use.

"Tasers should be used only as a last resort when all other de-escalation techniques have failed, but the police are using Tasers more often and in more questionable circumstances.  

"We need concrete steps to eradicate racist police use of Tasers and to prevent their misuse against vulnerable groups such as children or those with mental health issues. 

"There needs to be comprehensive and ongoing training, better guidelines over Taser use, and greater transparency and record-keeping over the circumstances in which these powerful weapons are being deployed on our streets."
Dalian Atkinson's manslaughter by police
Earlier this year, Amnesty said the multiple and sustained Taser shocks used by a police officer against former professional footballer Dalian Atkinson ahead of his death in 2016 were part of a "toxic cocktail of abusive and discriminatory policing". In June, a jury at Birmingham Crown Court found that West Mercia police officer Benjamin Monk was guilty of manslaughter in relation to Atkinson's death. Atkinson, a 48-year-old Black man, was Tasered for 33 seconds and also kicked in the head twice by the police officer as he lay on the ground.