UK: Help for Afghan refugees 'moving at a snail's pace'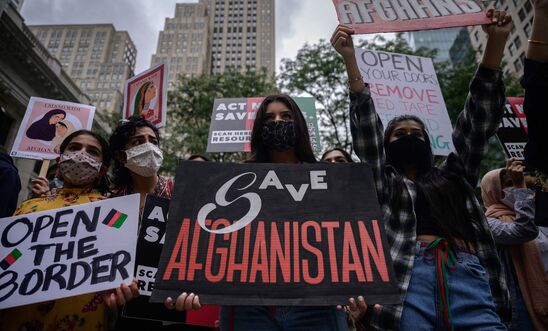 March and protest aiming to raise awareness of Afghanistan's refugee crisis following the Taliban takeover, in New York on August 28, 2021 © AFP via Getty Images
Lack of safe and legal routes for Afghans to reach the UK and other countries - new report
Draconian Nationality and Borders Bill puts Afghans at risk of prosecution, and life-threatening maritime pushbacks
'It's deeply frustrating to see the UK's efforts to assist at-risk Afghans moving at a snail's pace' - Steve Valdez-Symonds
Nearly two months after refugee airlift operations in Afghanistan ended, those left behind in the country face formidable obstacles in seeking safety, warned Amnesty International in a new report today.
Amnesty also warned that the UK's efforts to assist Afghans in danger are currently "moving at a snail's pace", with many people who are still trapped in Afghanistan likely to be at acute risk of persecution under the Taliban.
Amnesty's 32-page report - Like an obstacle course: few routes to safety for Afghans - highlights how neighbouring countries have closed their borders to Afghans without travel documents, countries across Europe and Central Asia have subjected Afghans to illegal pushbacks, detention and deportation and the UK is failing to implement a promised Afghan resettlement scheme.
The UK announced in August a resettlement scheme for Afghans at high risk of persecution - such as women human rights defenders and LGBT+ people - but more than two months later, the Government is yet to launch the scheme and some of those who have arrived under emergency evacuations have been left with little support in hotels and hostels across the country.
Meanwhile, UK ministers are currently seeking to introduce draconian new anti-asylum measures as part of the Nationality and Borders Bill. The risks for Afghans include:
No visa made available for those fleeing persecution

Risk of prosecution and imprisonment if they arrive "illegally"

Life-threatening pushbacks at sea if they attempt to cross the Channel

Additional barriers in establishing refugee status and the right to remain in the UK
Steve Valdez-Symonds, Amnesty International UK's Refugee and Migrant Rights Director, said:
"It's deeply frustrating to see the UK's efforts to assist at-risk Afghans moving at a snail's pace, with many people still stranded in Afghanistan and the UK's resettlement scheme still yet to get off the ground.

"Of those Afghans who've been brought to safety in Britain, many remain stuck in hotels, often with little or no support, and with no date to be moved to permanent homes.

"Ministers' fine words in August now ring hollow, not least with the draconian Nationality and Borders Bill being pushed through Parliament. 

"The Bill is going to make vulnerable people even more vulnerable and set a terrible example for other countries who may similarly attempt to shut the door to those seeking asylum."
Open borders for Afghans
Amnesty is urging all countries to open their borders to Afghans seeking refuge, and to establish and implement targeted resettlement schemes to bring the most at-risk to safety. They must live up to their obligation to protect people at risk of serious human rights violations by immediately ending all returns or deportations to Afghanistan, and ensuring access to fair asylum procedures. They should also urgently take steps to secure safe passage for Afghans who are in danger of being targeted by the Taliban, including by minimising requirements for travel documentation and offering humanitarian visas to those most at risk. 
Francesca Pizzutelli, Amnesty International's Head of Refugees and Migrant Rights, said: 
"Trying to get out of Afghanistan right now is like an obstacle course.

"Since the Taliban takeover it has been near-impossible to obtain travel documents, forcing many Afghans to make irregular journeys which result in punitive treatment by other governments.

"Instead of finding safety and protection, Afghans who fled the Taliban end up trapped in makeshift camps at border zones or detained while they await deportation to an uncertain fate.

"The lives of thousands of women and men who had worked to promote and defend human rights, gender equality, rule of law and democratic freedoms in their country are now hanging by a thread.

"The world must not abandon Afghanistan at this critical moment - we need a concerted international effort to bring Afghans to safety." 
Government failures to provide safety to Afghan refugees
United Kingdom
During the emergency evacuation period, the UK announced the Afghan Citizens' Resettlement Scheme (ACRS), a targeted scheme to resettle and relocate 5,000 Afghan nationals in the first year of the scheme's operation and up to 20,000 over the coming years. However, the scheme is yet to be implemented and there is much of its detail that remains to be either worked out or published.
Pakistan, Uzbekistan, Tajikistan and Turkmenistan
These countries have all closed their borders to Afghans travelling without documents, despite the risk that forcibly returning people to Afghanistan will put them at risk of serious human rights violations by the Taliban. Since 20 August, Uzbekistan has returned 150 people to Afghanistan, based on an agreement with the Taliban.  
Iran
International Organisation for Migration figures show that the Iranian authorities deported 58,279 undocumented Afghans between 27 August and 9 September.
Turkey
In July, as refugee arrivals from Afghanistan increased, the Turkish authorities announced the extension of a wall at its border with Iran, and Turkey continues to round up undocumented Afghans in preparation for deportation.  
Bulgaria, Croatia and Greece
These countries have continued to carry out pushbacks against Afghans, while Poland has introduced new restrictions which will make it impossible for people crossing the border irregularly to claim asylum in Poland. 
Poland and Belarus
A group of 32 Afghans have been stranded on the Poland-Belarus border since 19 August, after they were moved from Poland to Belarus in a suspected pushback. Belarusian border guards have kept the group trapped in a small strip of land on the border, without adequate shelter, clean water, food or access to health care. 
Germany
Afghans are required to present themselves to the German authorities for security checks before they can be considered for evacuation - but there is currently no diplomatic representation in Afghanistan.
United States
The Government has said it intends to resettle 95,000 Afghan evacuees by the end of September 2022. However, questions remain about the treatment of Afghan evacuees in US military bases, and the detention and transfer to third countries of Afghans who have not cleared US security checks. 
International responsibility to refugees
Under international law, countries must keep borders open for those seeking refuge. In this case, the obligation applies not just to countries sharing a land border with Afghanistan - it also applies to countries that Afghans can reach via air or sea, or after journeys through other countries.
While the human rights situation in Afghanistan continues to deteriorate, all countries must take immediate measures to enable exit from Afghanistan, in particular for women activists, human rights defenders, journalists, and people from marginalised ethnic or religious minorities. They must offer international protection both to new arrivals and to Afghans who are already on their territories, and support countries in the region to guarantee the rights of Afghans who travel there.