UK arms sales: 'astonishing' that weapons are being sent to Russia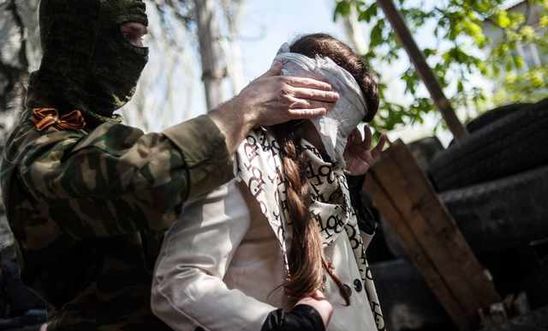 A pro-Russian separatist with a detained Ukrainian journalist in the city of Slavyansk in April © EVGENY MALOLETKA/AFP/Getty Images
'Given Russia's record … was it ever sensible to sell the Kremlin equipment like rocket launchers and components for military helicopters?' - Oliver Sprague
Responding to today's Commons Committees on Arms Export Controls report on UK arms sales, Amnesty International UK Arms Control Programme Director Oliver Sprague said:
"Given Russia's record over supplying arms to the Assad government in Syria and its past behaviour in Chechnya, was it ever sensible to sell the Kremlin equipment like rocket launchers and components for military helicopters?

 

"The government's suspension of a limited number of licences to Russia in March is a case of closing the stable door after the horse has bolted.

 

"The government is nowhere near risk-averse enough when it comes to arms sales. 

 

'It's astonishing that even after Crimea, eastern Ukraine and the shooting down of the Malaysian airliner, there are still ongoing export licences to Russia for things like missile system components, equipment for military helicopters, sniper rifles and enormous amounts of small arms ammunition. 

 

"With Gaza, it's amazing that Downing Street apparently sees no need to impose any kind of arms embargo on weapons to Israel despite the mounting probability that Israeli forces have committed war crimes in Gaza. 

 

"Last year the UK sold £6.m-worth of arms to Israel - where on earth was the risk-analysis for these sales?"
Call on Philip Hammond to stop arms to Israel
Over 25,000 people have supported a
call
on the Foreign Secretary Philip Hammond to stop arms transfers to Israel.