UAE: jailed economist's health failing after prolonged hunger strike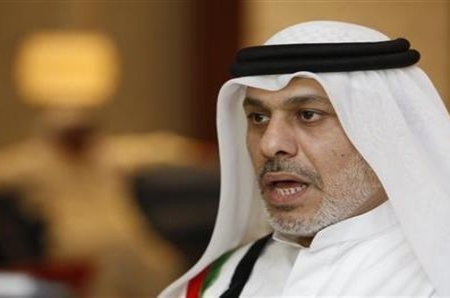 Prominent academic Dr Nasser bin Ghaith was jailed for ten years for Twitter comments 
'The recent imprisonment of the British PhD student Matthew Hedges … shone an international spotlight on the UAE's repressive practices' - Samah Hadid
The authorities in the United Arab Emirates must immediately and unconditionally release Dr Nasser bin Ghaith, a prisoner of conscience whose health has deteriorated sharply in recent days, Amnesty International said today.
Dr Nasser bin Ghaith - a prominent Emirati economist - has been on hunger strike for the past two-and-a-half months in protest at his detention and prison conditions. Since 7 October, he has only eaten a small amount of food and his health has declined drastically. 
Amnesty's fears for Dr Nasser bin Ghaith's welfare are heightened by the fact he suffers from high blood pressure and cardiomegaly (enlargement of the heart), and has not been receiving his blood pressure medication in prison. He also has early-stage fatty liver disease. 
The economist was sentenced to ten years in jail in March last year after being convicted on charges that included "insulting the UAE". This related to comments he made on Twitter regarding his treatment during an earlier trial. He was also convicted of "communicating and cooperating with members of the banned al-Islah organisation". 
During his trial, the Emirati authorities restricted his access to his lawyer and he was unable to prepare a proper defence. Amnesty believes his trial was grossly unfair and politically-motivated trial.
Samah Hadid, Amnesty International's Middle East Campaigns Director, said:
"News that Dr Nasser bin Ghaith's health has deteriorated sharply, leaving him too weak to stand up and causing him to start losing his eyesight, is deeply alarming. 

"He is a prisoner of conscience and should not even be behind bars, let alone serving a ludicrous ten-year sentence based on a deeply-flawed trial.

"Instead of prolonging his suffering the Emirati authorities should order his immediate and unconditional release. Until then, they must ensure he is granted any medical care that he requires.

"The recent imprisonment of the British PhD student Matthew Hedges, who was convicted on spying charges after grossly unfair proceedings, shone an international spotlight on the UAE's repressive practices.

"However, across the country there are dozens of prisoners of conscience, like Dr Nasser bin Ghaith, who are languishing in dire conditions, unjustly jailed for peacefully expressing their views."