Two years on from 50-day Gaza conflict still no justice for victims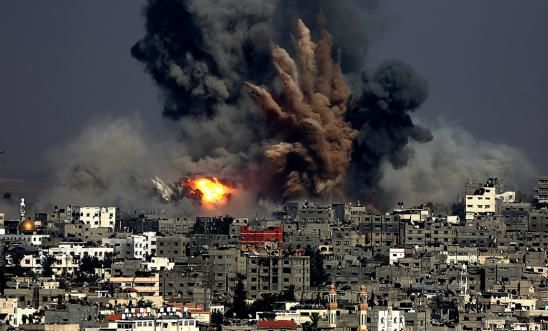 The 2014 conflict led to a devastating death toll © EPA/MOHAMMED SABER
'I cannot understand how a crime … where the whole world saw how boys playing on the beach were massacred mercilessly, can pass like that without any criminals held to account' - Sobhi Bakr, relative of four boys killed in Israeli air strike
Ahead of the second anniversary (8 July) of the start of Israel's 50-day military offensive in Gaza in 2014, Amnesty International has today asked why no genuine criminal investigations have been launched, and why no one has yet been held to account for atrocities in spite of war crimes being committed by both sides.
During 50 days of attacks, Israeli forces wreaked massive death and destruction on the Gaza Strip, killing close to 1,500 civilians, more than 500 of whom were children. However, the only criminal charges resulting from Israel's military investigations were brought against three soldiers for the relatively minor abuses of looting and obstructing an investigation. Meanwhile, more serious crimes, some of which are likely war crimes, have gone unpunished.
On the Palestinian side, there have been no genuine investigations into violations - including war crimes - by Hamas and Palestinian armed groups. Palestinian armed groups fired thousands of unguided rockets and mortars at civilian areas in Israel, killing six civilians; and Hamas forces summarily killed and attacked Palestinians it deemed to be enemies.
In a new briefing issued today, Amnesty has published interviews with relatives of those killed during the war, as well as details of flaws in investigations conducted by the Israeli military authorities, and information on several attacks in Gaza that very obviously targeted civilians in violation of international humanitarian law.
Amnesty is calling on Israel to reform its investigative mechanisms, including by ensuring that those investigating are independent of those ordering, implementing or advising on attacks. Meanwhile, the Palestinian National Consensus Government should ensure that there are independent criminal investigations into war crimes committed by Palestinians during the 2014 war, while the Hamas authorities in Gaza must be transparent about any progress in its investigations into summary killings and other abuses of Palestinians in Gaza. 
Amnesty is also urging all sides to cooperate fully with the preliminary examination being conducted by the Office of the Prosecutor of the International Criminal Court into alleged crimes committed during the Gaza conflict.
Amnesty International's Middle East and North Africa Director Philip Luther said:
"The fact that no one has been held to account for war crimes that were evidently committed by both sides in the conflict is absolutely indefensible."