Turkey: trial of Amnesty chair and ex-director resumes, two years since first detained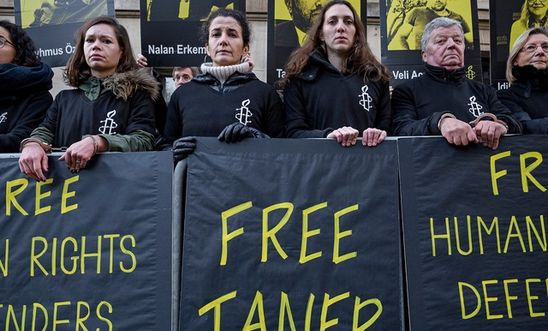 The trial of Amnesty Turkey's chair and ex-director, along with nine other human rights defenders, resumes tomorrow
Prosecution summing-up expected
No credible evidence of criminal wrongdoing has been presented over eight hearings
"It is now time to end this judicial farce and acquit Taner and the Istanbul 10" – Kumi Naidoo
Details: The hearing will begin at 09.00am BST on Wednesday 9 October at Istanbul Heavy Penal Court, No 35.
More than two years after they were first detained, the honorary chair and the former director of Amnesty International Turkey and nine other human rights defenders must be acquitted of the absurd charges they still face, said Amnesty International, ahead of their trial which resumes tomorrow in Istanbul. 
Taner Kılıç, Amnesty Turkey's honorary chair, and İdil Eser, Amnesty Turkey's former director, are being tried alongside nine others, in relation to alleged "membership of a terrorist organisation".  
Amnesty UK's director, Kate Allen, will join a delegation of senior Amnesty representatives attending the hearing.  
Kumi Naidoo, Amnesty International's Secretary General, said:
"After more than two years and without a shred of credible evidence presented to substantiate the absurd charges made against them, it is now time to end this judicial farce and acquit Taner and the Istanbul 10.
"Over the course of eight hearings, the prosecuting authorities have failed to present any credible evidence of criminal wrongdoing.
"Human rights defenders in Turkey spend their days either languishing in jail or living in constant fear of arrest, prosecution and imprisonment. The Istanbul 10 and Taner should be exonerated, and all those jailed merely for defending human rights must be immediately and unconditionally released."
Behind bars for defending human rights
Taner Kılıç spent more than 14 months in prison before his release on bail in August last year. Meanwhile, eight of the Istanbul 10 spent almost four months each behind bars before they were bailed in October 2017.  
The prosecution has failed to produce any evidence of criminal wrongdoing, let alone 'terrorism', during more than two years of this prosecution.
The prosecution's case against Taner Kılıç relied on the allegation that he had the ByLock application on his phone. ByLock is an application that the Turkish authorities claim was exclusively used by members of the Fethullah Gulen Terrorist Organisation, which they accuse of having organised an attempted coup in July 2016.
In June 2018, months after their arrest, a 15-page police report was finally submitted to the court. The report - seen by Amnesty - showed there was no evidence that Taner Kılıç ever had ByLock on his phone. This corroborates the findings of four independent forensic reports previously submitted to the court. All found no evidence that Kılıç had downloaded or used the app.
An international delegation of senior Amnesty International representatives from around the world is attending the hearing in Istanbul, including: Kate Allen, Director of Amnesty UK; John Peder Egenaes, Director of Amnesty Norway; Esteban Beltrán, Director of Amnesty Spain, Anna Lindenfors, Director of Amnesty Sweden.