Turkey: Release of seven journalists 'a step forward' as colleagues continue to languish in jail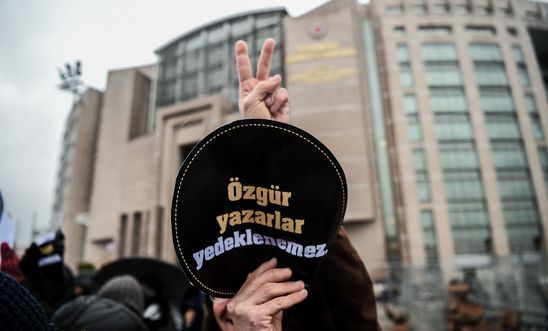 In response to an Istanbul court's ruling earlier tonight to conditionally release seven of the 12 imprisoned Cumhuriyet journalists and the continuation of the pre-trial detention of five others, John Dalhuisen, Amnesty International's Director of Europe and Central Asia, said:
"While the news of the release of seven Cumhuriyet journalists and others, is a positive step forward, we are dismayed at the continued imprisonment of Ahmet Şık, Kadri Gürsel, Akın Atalay, Murat Sabuncu and Ahmet Kemal Aydoğdu.

"The hearing so far has made it glaringly apparent that this indictment lacks any credible evidence. Strikingly, it mentions the word 'news' more than 600 times. Plain and simple, this is journalism on trial."
Background
The trial of the 17 Cumhuriyet journalists, executives and lawyers - of whom 12 have been held in pre-trial detention since last year - began on Monday 24 July in Istanbul.
The court also ruled to lift the restrictions on meetings between those imprisoned and their lawyers, which have been limited to an hour per week.
Cumhuriyet staff and others languishing in jail will see their cases considered in the European Court of Human Rights in the next few months. The next hearing in the case will take place on 11 September.