Turkey: Outrageous arrest of lawyer makes mockery of Erdogan's 'human rights reforms'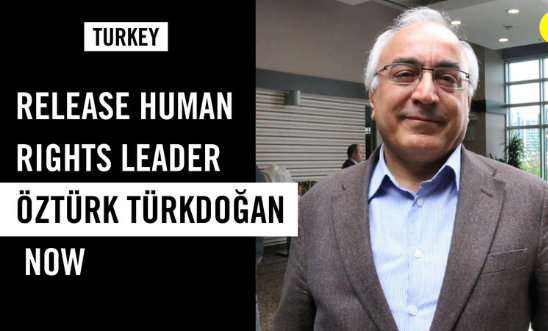 Öztürk Türkdoğan, president of Turkey's Rights Organisation
Öztürk Türkdoğan, president of Turkey's Human Rights Organisation, arrested this morning
Responding to the arrest today of Öztürk Türkdoğan, the president of Turkey's Human Rights Organisation, Esther Major, Amnesty International's Senior Research Adviser for Europe, said:
"The detention of Öztürk Türkdoğan is outrageous. With ink barely dry on the Human Rights Action Plan announced by President Erdoğan two weeks ago, his arrest reveals that this document is not worth the paper it is written on.

"Ironically, Öztürk was among those consulted by the Ministry of Justice before the drafting of the Action Plan which makes a mockery of Turkey's hollow attempts to improve its image on human rights.

"The Turkish authorities must immediately release Öztürk and end the criminalisation of human rights defenders and human rights associations."
Öztürk Türkdoğan was arrested in Ankara this morning, along with 10 other people connected to a range of political parties and human rights organisations.