Turkey must keep its borders open to Syrian refugees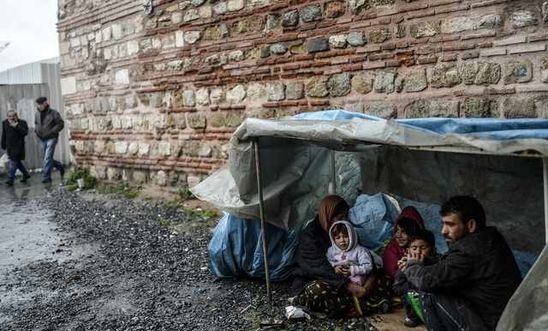 A Syrian refugee family from Aleppo sheltering in Istanbul earlier this year © BULENT KILIC/AFP/Getty Images
Latest wave of Syrians fleeing Islamic State must be given sanctuary in Turkey
The Turkish authorities must ensure that the country's borders are kept open to those fleeing conflict and human rights abuses in Syria and Iraq, said Amnesty International this afternoon.
Turkey has begun to close some of its border crossings with Syria after 130,000 Kurdish refugees poured into the country in recent days fleeing the advance of the Islamic State armed group.
Turkey, which before this weekend was already hosting more than one million refugees from Syria, has largely been left to deal with the crisis on its own. 
Amnesty International's Head of Refugee and Migrants' Rights Sherif Elsayed-Ali said:
"The latest influx of refugees has undoubtedly placed even further strain on Turkey's already stretched resources, but this cannot be used as an excuse for denying safe sanctuary to anyone who is fleeing the horrors of war.

 

"With more and more desperate refugees arriving at the border in search of safety it is crucial that the international community acts now to strengthen its support to Turkey and other countries neighbouring Syria to avert further suffering.

 

"World leaders have been quick to condemn the atrocities committed by the armed group that calls itself the Islamic State in both Iraq and Syria. Now they must assist those who have fled from the group."
Syrian refugees in Lebanon
In addition to the strain being felt by Turkey, Amnesty is also
warning that Lebanon
- which is hosting more Syrian refugees than any county in the world - is unable to cope with this responsibility without greater assistance from other countries, including the UK. 
ExCom and Syria crisis
The conflict in Syria has resulted in the largest forced displacement crisis in the world. There are currently more than 3.3 million refugees from Syria, the vast majority of them have sought refuge in Syria's neighbouring countries; another 6.5 million people are displaced within Syria's borders.
Amnesty is urging countries to come together at the UN High Commissioner for Refugees' Executive Committee (ExCom) meeting next week in Geneva to jointly address the global crisis.