Turkey: Former Amnesty heads among 11 facing long jail sentences - verdict due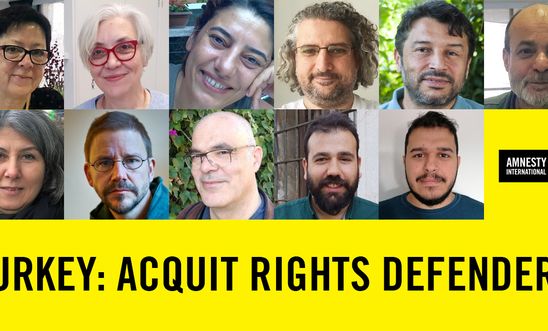 A verdict is expected this week in the case of 11 human rights defenders, including former senior members of Amnesty Turkey, who could face up to 15 years in jail if found guilty on terrorism charges.
The activists have spent more than more than two-and-a-half years fighting the baseless charges, with the final hearing taking place in Istanbul on Wednesday (February 19).
Amnesty Turkey's former director Idil Eser and former chair Taner Kılıç are among those on trial. Amnesty said only acquittal of all 11 could deliver justice.
Over the course of 10 separate hearings, the 'terrorism' allegations made against the 11 defendants have been repeatedly and categorically disproven, including by the state's own evidence. The prosecution's attempt to present legitimate human rights activities as unlawful acts has comprehensively failed, said Amnesty.
Marie Struthers, Amnesty International's Europe Director, said:
"The plight of these activists shows that Turkey has become a country where defending other people's freedoms can cost you your own, and where standing up for human rights is being criminalised.

"From the moment they were arrested, it was clear this was a politically-motivated prosecution aimed at silencing independent civil society within Turkey.

"The significance of the verdict will reach far beyond this courtroom. The acquittal of these 11 human rights defenders should herald the beginning of the end of the crackdown on civil society and a restoration of respect for human rights in Turkey.

"This verdict is an acid test for Turkey's justice system - we demand an end to this prolonged saga of injustice now.

"The eyes of the world will be on the courtroom. Any verdict other than an acquittal will be a chilling reminder that truth and justice have become strangers in Turkey."
Global support from 2,000,000 people
Since 2017, more than two million people from around the world have joined the call for justice for the 11, including scores of prominent figures from the arts world, among them Ben Stiller, Whoopi Goldberg, Edward Snowden, Sting and Ai Weiwei.
At the most recent hearing in November, Turkey's state prosecutor presented his final opinion requesting convictions against Taner Kılıç for "membership of a terrorist organisation", and Idil Eser, Özlem Dalkıran, Günal Kurşun, Veli Acu and Nejat Taştan for "knowingly and willingly assisting a terrorist organisation".
He requested that the court acquits the five other defendants - Nalan Erkem, İlknur Üstün, Şeyhmus Özbekli, Ali Gharavi and Peter Steudtner.
Crackdown on civil society after 2016 coup attempt
Thousands of people remain in jail following Turkey's far-reaching crackdown after the attempted coup in the summer of 2016.
The targeting of human rights defenders has escalated during the crackdown, with the closure of more than 1,300 non-governmental organisations and 180 media organisations, and the arbitrary dismissal of almost 130,000 public service workers.