Turkey: court accepts 'fantastical' terrorism charges against Amnesty Director and 10 other prominent activists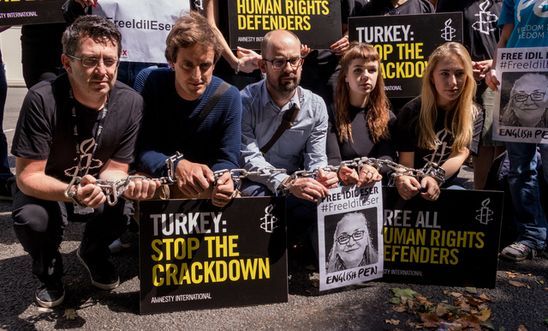 Demonstration outside the Turkish Embassy earlier this year
The 11 activists, including Amnesty Turkey's director and chair, face up to 15 years behind bars
Allegations against 11 human rights activists, including Amnesty International Turkey's director and chair, should have been rejected in their entirety, said Amnesty International after an Istanbul court accepted the indictment against them today (17 October).
The eleven activists, who are all prominent figures in the country, were arrested earlier this year. Under the indictment accepted today, they are accused of membership of a variety of 'armed terrorist organisations'. These charges carry jail terms of up to 15 years.
The 11 defendants are set to have their first hearing on 25 October in Istanbul. Amnesty Turkey's Chair Taner Kiliç is also set to appear before an Izmir court under a separate indictment on 26 October.
John Dalhuisen, Amnesty International's Europe Director, said:
"This indictment fails to provide a shred of incriminating evidence to substantiate the trumped-up terrorism charges it contains. In accepting this indictment, the Istanbul Court has missed a golden opportunity to bring this grotesque miscarriage of justice to a halt.
"This is a politically-motivated prosecution aimed at silencing the work of some of Turkey's most prominent human rights defenders. It beggars belief that anyone who has read the fantastical allegations laid out in the indictment could see it in any other way."
Amnesty will be sending observers to both trials and will publish a detailed assessment of the case against them next week.
Background
On 4 October, an Istanbul prosecutor filed an indictment against 10 human rights activists.  Amnesty Turkey's chair, Taner Kiliç, who is being tried separately on 26 October, has now also been added to the trail on the 25 October alongside the 10 other activists. The prosecutor claimed that Taner was aware of preparations for the digital security workshop in Büyükada which was where he was originally arrested, and was in contact with Amnesty Turkey's Chair, İdil Eser, and another of the defendants.