Turkey: chair of Amnesty Turkey kept in jail as second human rights trial begins in Izmir today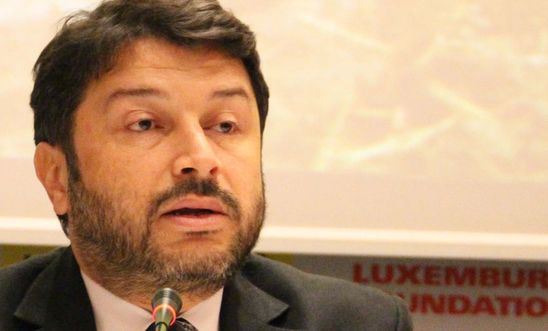 Taner Kılıç has already been behind bars for nearly five months © Amnesty International
Case follows separate one of ten human rights activists which began in Istanbul yesterday
Taner Kılıç has already been behind bars since early June
'The Turkish authorities have repeatedly and publicly presumed Taner Kılıç's guilt, on the basis of innuendo and unsupported allegations' - Salil Shetty
Following a decision by a court in Izmir today to keep the chair of Amnesty International Turkey - Taner Kılıç - in jail, Salil Shetty, Amnesty International's Secretary General, said:
 
"Over the last 24 hours we have seen the twin hands of Turkey's fickle justice system at play. While one grants liberty, the other, confronted with no less baseless charges, takes it away.
 
"The release of the 'Istanbul 10' late last night restored some faith in Turkey's justice system. Today, that faith has been washed away. 
 
"The Turkish authorities have repeatedly and publicly presumed Taner Kılıç's guilt, on the basis of innuendo and unsupported allegations. 
 
"We will continue undaunted to campaign for the release of our chair and the dropping of the charges against all human rights defenders in Turkey."
Mr Kılıç is charged with "membership of the Fethullah Gülen Terrorist Organisation". The charge is based on an allegation that he downloaded and used the ByLock messaging application, claimed to have been used by the Gülen movement to communicate. However, two independent forensic analyses of  Kılıç's phone commissioned by Amnesty found that there is no trace of ByLock ever having been on his phone.
Meanwhile Kılıç, who was originally arrested in early June, has also been indicted in a separate case against another ten human rights activists arrested in July at a workshop outside Istanbul. The adding of Kılıç to this case comes on the tenuous grounds that he was aware of the preparations for the meeting and in contact with Amnesty International Turkey director İdil Eser about her attendance at the meeting. 
Yesterday, Eser and seven other activists were released on bail during the case against them and two others (the "Istanbul 10"). Amnesty has described the case as "politically-motivated" and without foundation, and has called for all charges against these - and Taner Kılıç - to be dropped. 
Sweeping crackdown
Since a failed coup in mid-2016, the Turkish authorities have undertaken a wide-ranging crackdown on civil society institutions. Criminal investigations have been opened against 150,000 people accused of being part of the "Fethullah Terrorist Organisation," which the government claims masterminded the coup. Some 50,000 people are currently jailed, including at least 130 journalists, the highest number of any country in the world. More than 100,000 public sector workers, including a quarter of the judiciary and hundreds of academics, have been arbitrarily dismissed.