Turkey: Chair of Amnesty released on bail after nearly eight months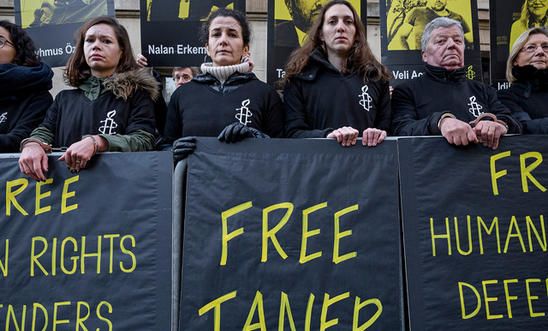 More than a million people have called for the case to be dropped against the 11 activists © Pierre-Yves Brunaud
'Courtroom breaks into cheers' - Kate Allen, observing the trial in Istanbul
Following a decision by a court in Istanbul today to conditionally release the Chair of Amnesty International Turkey, Taner Kılıç, after nearly eight months in detention, Gauri van Gulik, Amnesty International's Europe Director said:
"It is an enormous relief that Taner will soon be back with his wife and daughters, sleeping in his own bed for the first time in almost eight months. 

"But we cannot forget that many other innocent people remain behind bars without a shred of evidence in Turkey.

"These unfounded prosecutions are an attempt to silence critical voices within Turkey but have only served to highlight the importance of human rights and those who dedicate their lives to defending them.

"Today we take a brief moment to celebrate, but tomorrow we will continue our struggle to have all charges dropped against Taner, the Istanbul 10, and all other innocent victims wrongfully caught up in this vicious crackdown."
 
Kate Allen, Amnesty International UK's Director, who is observing the trial in Istanbul today, tweeted from the court:
"Released on bail. Courtroom breaks into cheers! Tears! All happy."
Taner Kılıç and the Istanbul 10
While Taner Kılıç has now been released, the trial against him and ten other human rights activists on trumped-up terrorism-related charges continues. Mr Kılıç was detained on 6 June last year and sent to jail three days later, where he has languished until today. Ten other activists "the Istanbul 10", including İdil Eser, the Director of Amnesty Turkey, were detained a month later. Eight of them were held for almost four months before being released on bail at their first hearing in October. 
 
The Istanbul 10 were accused of "membership of a terrorist organisation", a baseless allegation for which the prosecution has yet to provide any concrete evidence. More than a million people from scores of countries have signed Amnesty appeals demanding the release of the 11 human rights activists since their arrest last summer.
ByLock accusations
Mr Kılıç is alleged to have downloaded and used the ByLock messaging application, which the prosecution has claimed was used by the Gülen movement to communicate with each other. However, two independent forensic analyses of Taner's phone commissioned by Amnesty found that there is no trace of ByLock ever having been on it. So far, the prosecution have not provided any evidence to prove their claim and demonstrate any criminal wrongdoing. Last month, the Turkish authorities admitted that thousands of people have been wrongly accused of downloading ByLock. They published lists containing the numbers of 11,480 mobile phone users, leading to mass releases. Taner Kılıç is not yet among those listed for release on this basis.
Post-coup crackdown
Since the attempted coup of July 2016, criminal investigations have been opened against 150,000 people accused of being part of the "Fethullah Terrorist Organisation", which the Turkish government claims masterminded the coup. Some 50,000 people are currently jailed, including at least 100 journalists, the highest number of any country in the world. More than 100,000 public sector workers, including a quarter of the judiciary and hundreds of academics, have been arbitrarily dismissed.