Turkey: Amnesty UK director Kate Allen to attend trial of colleagues in Istanbul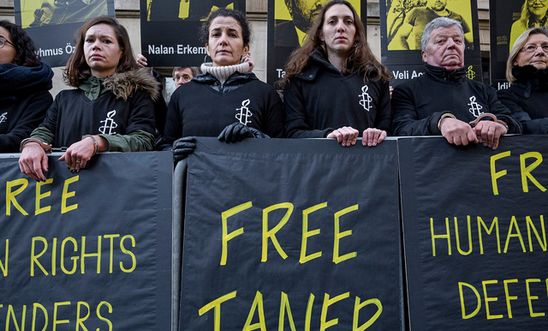 More than a million people have now called for the case against the human rights activists to be dropped © Pierre-Yves Brunaud
More than one million supporters have called for 'politically-motivated' charges against 11 human rights activists to be dropped
Those on trial include Taner Kılıç, Amnesty's Turkey chair, and İdil Eser, Amnesty Turkey's director
Kate Allen, Amnesty International UK's Director, will attend the trial of the director and chair of Amnesty International Turkey in Istanbul on Wednesday 31 January. 
Taner Kılıç, Amnesty's Turkey chair, and İdil Eser, the organisation's Turkey director, are being tried along with nine other people on allegations of "membership of a terrorist organisation".
Mr Kılıç was detained last June and has been in custody ever since, while Ms Eser was arrested a month later but released on bail - along with several others - at her first court hearing in October.
If convicted the 11 accused could face jail terms of up to 15 years. Amnesty has denounced the proceedings as "politically-motivated".
Kate Allen said:
"Attending the hearing on Wednesday is about showing solidarity - an important moral gesture and a demonstration of the fact that Amnesty won't be cowed by injustice.

"Taner and İdil are two of the most dedicated human rights activists I know, and it's truly frightening that Turkey is putting them through this charade of a trial. 

"Turkey's crackdown since the failed coup has been alarmingly indiscriminate. This needs to end now, starting with the 11 human rights workers on trial here and extending to the thousands of others who've been swept up in this avalanche of repression." 
Post-coup crackdown
Since the attempted coup of July 2016, criminal investigations have been opened against 150,000 people accused of being part of the "Fethullah Terrorist Organisation," which the government claims masterminded the coup. Some 50,000 people are currently jailed, including at least 100 journalists, the highest number of any country in the world. More than 100,000 public sector workers, including a quarter of the judiciary and hundreds of academics, have been arbitrarily dismissed.
Delegation of trial observers
Kate Allen is part of a delegation of Amnesty directors from around the world attending the hearing in Istanbul on Wednesday. The others are: Markus Beeko (Germany), Estaban Beltran (Spain), Sylvie Brigot-Vilain (France), Peder Egernaes (Norway) and Europe Director, Gauri van Gulik. Amnesty's Senior Advisor and Researcher on Turkey, Andrew Gardner, will also be in attendance. 
More than a million people from scores of countries have signed Amnesty appeals demanding the release of the 11 human rights activists since their arrest last summer.