Tunisia: jailing of six men for same-sex relations 'shocking'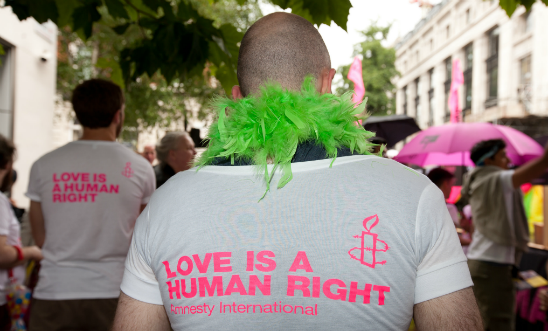 'Sodomy' is punishable by three years in jail in Tunisia
'This case highlights the entrenched levels of state homophobia in the country' - Said Boumedouha
The jailing of six Tunisian men sentenced to three years in prison for sodomy is a shocking example of state-sanctioned discrimination against LGBTI people in the country, said Amnesty International today.
The men, some of them university students, appeared to have been convicted following anal examinations. Such tests are considered by Amnesty to amount to torture when carried out involuntarily. 
A court in the city of Kairouan sentenced the men under Article 230 of the Tunisian Penal Code which criminalises "sodomy and lesbianism", and carries a maximum prison term of three years. One of the men was additionally sentenced to six months in prison for "indecency" after police found a pornographic video on his computer.
According to LGBTI activists following the case, the six men were arrested on 2 December after the police raided a house in which they were having a gathering. They appeared before the court on 10 December, which marked International Human Rights Day. Only one of the men was represented by a lawyer at the time.
The men have also been banned from residing in Kairouan for a period of five years under Articles 5 and 22 of the Penal Code, a ban which will come into force when they've completed their prison sentences. According to a lawyer involved in the case, this is the first known case in which such punishment has been used in recent years. 
Amnesty considers people who are arrested and detained solely on the basis of their sexual orientation or gender identity to be prisoners of conscience, and is urging the Tunisian authorities to release the men immediately and unconditionally, and for their convictions to be quashed.
Amnesty International's Middle East and North Africa Deputy Director Said Boumedouha said:
 

"The verdict against these men is absolutely shocking, especially at a time when rights groups in Tunisia are increasingly speaking out against the criminalisation of same-sex sexual relations.

 

"Nobody should be imprisoned based on their sexual orientation or sexual activity. This case highlights the entrenched levels of state homophobia in the country and how far Tunisia still has to go before LGBTI people can enjoy full sexual and gender identity rights."
Gay bashing goes unpunished
Amnesty has spoken to LGBTI people in Tunisia who have been stabbed or slashed with knives, kicked in the head, burnt with cigarette butts and threatened with death because of their gender identity or sexual orientation. Their reports to the police have often been dismissed or ignored because of provisions in Article 230. Amnesty is calling on the Tunisian authorities to repeal Article 230 and decriminalise same-sex relations. In a recent report Amnesty documented how the authorities in Tunisia frequently fail to investigate and punish homophobic and transphobic hate crimes. 
Gay men in Tunisia are often arrested without any evidence that they have engaged in same-sex relations. Instead, most arrests are carried out based on gender stereotypes such as appearance and behaviour, with gay men who are considered "effeminate" and transgender women targeted the most.
Men accused of engaging in same-sex relations are routinely subjected to anal examinations by medical doctors in Tunisia, usually ordered by a judge in an attempt to find "proof" of anal sex, a method that has been discredited as unscientific. Although in theory the suspect may refuse the examination, activists say that most men are unaware of their rights and feel pressured to agree to the test. They are often intimidated by the police and told that a refusal could be used as evidence against them. This issue was brought to light recently with the case of a 22-year-old known as "Marwan", who was sentenced to a year in prison for engaging in "homosexual relations". Initially police had summoned Marwan in relation to the murder of a man in Sousse, which he denied any involvement in. He admitted to having sex with the victim reportedly after the police threatened to bring a murder charge against him, and was consequently charged with "sodomy" under Article 230.