Trump UK visit: protesters promise to 'bring the noise' with pots and pans women's march and rally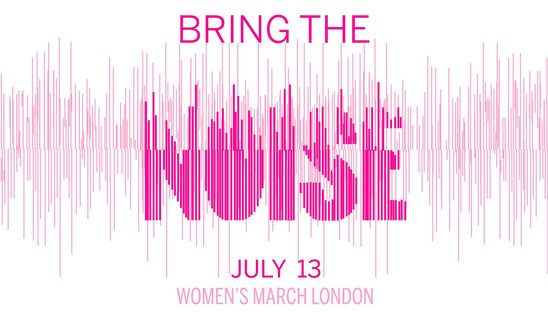 On Friday 13 July, the first day of the US President's much-discussed visit to the UK, a coalition of organisations will march in protest over the inhumane, divisive, misogynistic and discriminatory policies and rhetoric of the Trump administration.
These have resulted in the Muslim ban, the recent scandal of caging and separating children from their parents at borders, mockery of disabled people, regression in respect for women's rights, and a hostile stance on LGBT rights. 
The "Bring The Noise" march and rally, organised by the Women's March London coalition, will replicate the defiance and celebration of last year's Women's March, when thousands of people took to the streets of central London. 
Thousands are expected to take part on 13 July, which will see brightly-clothed protesters (many in rainbow colours) banging pots and pans in a raucous carnival-style event reminiscent of South American street protests.
 
Kate Allen, Amnesty International UK's director, said:
"In only 18 months, Mr Trump has presided over a nightmarish human rights roll-back - from locking up child migrants and withdrawing from global human rights bodies, to imposing a discriminatory travel ban and decimating global funding for women."
Stonewall said:
"Stonewall will be joining the Bring the Noise march to stand up and show that love trumps hate and to make clear that the values of Trump's administration are not shared here."
End Violence Against Women said:
"Trump is a self-described abuser of women, he has made light of his own locker-room chat which minimises the behaviour which harms millions of women every year. This minimising of women's everyday experiences with sexism and misogyny isn't something that should be ignored or tolerated."
Stella Creasy MP, coordinator of Top Trump Targets campaign, said:
"What really matters here are the people whose lives are negatively affected by the rhetoric of what Trump represents and promotes."
 
What: Mass march and rally with participants in rainbow colours banging pots and pans
When: Friday 13 July 2018: assembling at 11am; march at 12.30pm with rally at 2pm to 4pm
Where: From BBC Portland Place to Parliament Square with rally from 2pm to 4pm
Who: Celebrities, MPs, campaign organisations and the general public
 
Women's March London coalition
The coalition includes: Abortion Support Network, ActionAid UK, Amnesty International UK, Best for Britain, Dahlia Project Women for Refugee Women, Democrats Abroad UK, Dimensions, End Violence Against Women Coalition, Environmental Justice Foundation, Fawcett Society, Fourth Wave Feminists, Gendered Intelligence, Greenpeace, Help Refugees, Hope Not Hate, Liberty, Making Herstory, Muslim Women's Network UK, Nisa Nashim Jewish and Muslim Women's Network, Operation Black Vote, Oxfam GB, Pride in London, Reclaim, Safe Passage, She Speaks We Hear, Southall Black Sisters, Stonewall, Team Future, Verve, Women For Europe, Women in Leadership publication and Women's Voice.