Trump UK visit: activists to unfurl giant 'human rights nightmare' banner on Vauxhall Bridge opposite US Embassy in London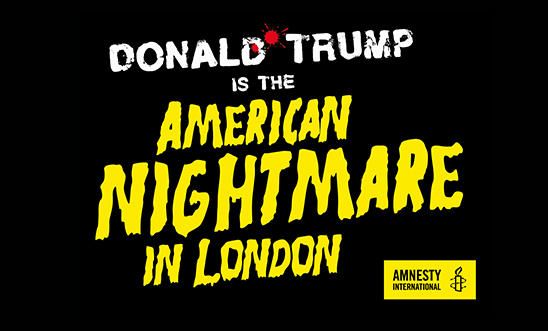 Protest comes ahead of Friday 13th visit from US President
Banner will be directly visible from US Embassy
Amnesty International will unfurl a giant protest banner on Vauxhall Bridge in London ahead of the arrival in the UK of US President Donald Trump on Thursday 12 July. 
When unfurled, the 15-metre-long, three-metre-deep banner will face toward the US Embassy and bear the words "Human Rights Nightmare" as well as a large image of Donald Trump.
The banner will be in horror movie-style lettering with lurid blood-red markings. Mr Trump is set to officially begin his much-discussed visit to Britain on Friday 13th.
In the past 18 months, the highly controversial Trump presidency has seen an unprecedented period of human rights roll-back in the USA. Amnesty has strongly criticised numerous new US policies and has called on Prime Minister Theresa May to "stand up to Trump" during the visit.
The Amnesty protest banner will be unveiled at 1.30pm, just hours before President Trump is scheduled to arrive in the UK. Amnesty and other groups are participating in protest marches and rallies on 13 July, though it's thought Mr Trump is unlikely to see these. However, the Vauxhall Bridge banner will be visible to officials working in the newly-opened US Embassy nearby.
What: Giant "Human Rights Nightmare" banner on Vauxhall Bridge 
When: Thursday 12 July 2018 at 1.30pm (likely to last for around 30 minutes)
Where: Vauxhall Bridge, London SW1V 1AA
Who: Amnesty activists, including Amnesty UK Director Kate Allen
Note to editors
Photographers are advised that the banner is likely to be photographed to best effect from St George Wharf Pier, on the south side of the River Thames, accessed from Riverside Walk.