Troy Davis remembered: special event ten years on from his execution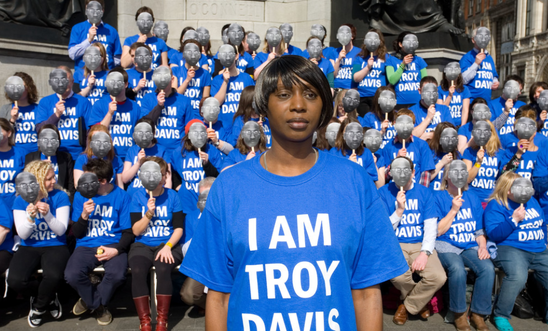 Martina Davis-Correia campaigning for her brother at an Amnesty event in Dublin in 2010 © André Corvin Photography
Davis was executed in US state of Georgia on 21 September 2011
'We are still Troy Davis': special online Amnesty UK event to recall the worldwide campaign to save his life
Amnesty International UK will hold a special online event on 21 September (7-8.30pm) to mark the ten-year anniversary of the execution of Troy Davis, a 42-old Black man executed in the US state of Georgia despite widespread concerns over the safety of his conviction.
Davis - who was sentenced to death in 1991 for the murder of Mark Allen MacPhail, an off-duty police officer who was shot and killed in Savannah - always maintained his innocence.
There was no physical evidence linking Davis to the crime and seven out of nine prosecution witnesses later recanted or changed their initial testimonies in sworn affidavits, some alleging police coercion. 
Amnesty was active in a long-running high-profile international campaign to save Davis's life, a campaign which adopted the solidarity slogan "I Am Troy Davis". 
As well as Davis himself, the 21 September event - organised by Amnesty UK's anti death penalty project - is being held to commemorate the lives of his sister Martina Davis-Correia and his mother Virginia Davis, both of whom died shortly after Davis's execution having fought an exhausting 20-year campaign for their loved one.
The event - "We are still Troy Davis" - is an opportunity for supporters to reflect back on the campaign to save Troy Davis's life as well as the wider global movement to end the death penalty. 
THE PANEL
De'Jaun Davis-Correia - Troy Davis's nephew, who was born while his uncle was in prison
Richard Hughes - from the band Keane, who campaigned alongside Amnesty and visited Troy Davis on death row
Laura Moye - former Amnesty USA campaign director, who led the global Troy Davis campaign
Ed Pilkington - chief reporter for Guardian US, who has written widely on the death penalty
Chair: Kim Manning-Cooper - former Amnesty UK campaign manager, who led the UK arm of the Troy Davis campaign, working closely with his family in the United States
The event will livestream from this site.
Please register your interest for this free event here.