Today's killing of two protesters in West Bank shows 'recklessness' of Israeli forces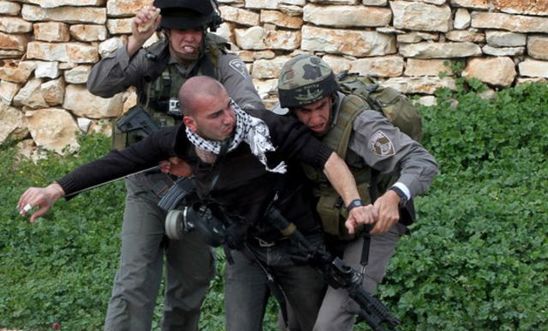 Private © Palestinian being beaten by a solider in a peaceful protest in the West Bank last year
'Israeli forces have repeatedly resorted to extreme violence to respond to Palestinian protests against Israel's occupation' - Philip Luther
Israeli forces have again displayed recklessness in their use of force against Palestinian protesters when they killed a young man and a teenager - and injured several others - during a crackdown on demonstrations to commemorate the Nakba in the occupied West Bank today, said Amnesty International. 
The killings occurred in a demonstration outside Ofer military camp. As well as commemorating the Nakba (the dispossession of Palestinians in 1948), the demonstrators were expressing solidarity with around 125 Palestinian detainees who are being held by Israel without charge and have been on hunger strike for 22 days to protest against their detention conditions. 
The Israeli army and border police used excessive force in response to rock-throwing protesters who could not have posed a threat to the lives of the soldiers and policemen in or near the fortified military camp. 
Amnesty International Middle East and North Africa Director Philip Luther said: 
"The news that two Palestinians were killed during today's demonstrations is alarming. 

 

"Israeli forces have repeatedly resorted to extreme violence to respond to Palestinian protests against Israel's occupation, discriminatory policies, confiscation of land and construction of unlawful settlements. 

 

"The use of unnecessary and excessive force by Israeli forces against protesters in the occupied Palestinian territories, and in Israel, is unacceptable and must be stopped immediately.

 

"The Israeli authorities must ensure that their forces act in a manner that respects and upholds human rights. Amnesty International is calling for a prompt, independent, and transparent investigation into these deaths and injuries." 
Amnesty recently documented the repeated use of excessive force and unlawful killings of dozens of Palestinian civilians, including children, in the occupied West Bank over the past three years in a report called Trigger Happy: Israel's excessive use of force in the West Bank, published in February.